Now that's how you embrace a Connected School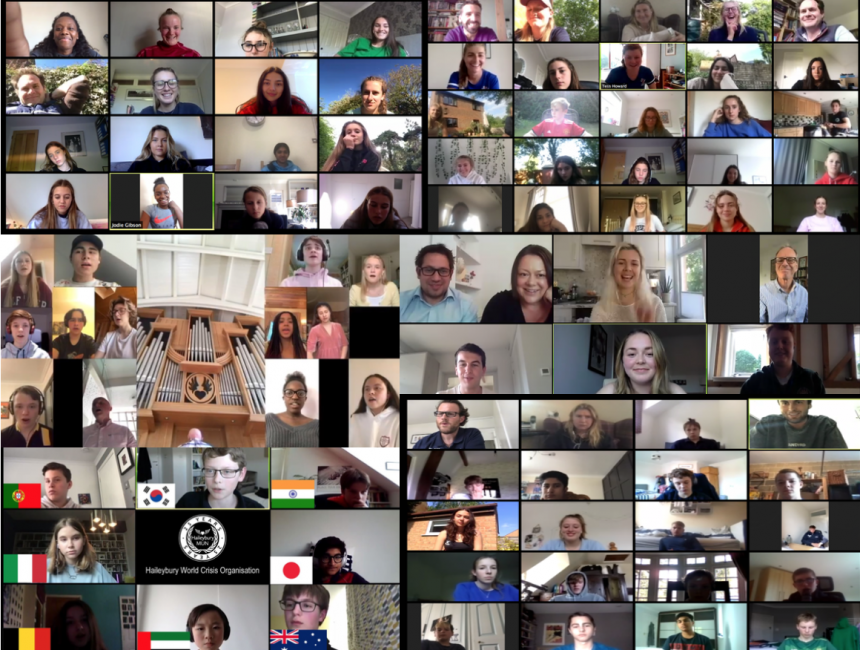 The entire Haileybury community has embraced our Connected School platform to produce a remarkable range of work. It's been a sensational six weeks of co-operation, creativity and commitment.
Learning from home was considered an exciting opportunity to rethink education in the short term: Haileybury teachers set about designing bespoke timetables which ensured routine, resources and regular contact.
And after a half-term of video lessons and virtual sessions, pupils have developed skills which will serve them well throughout the rest of their Haileybury careers and beyond.
We have seen some pupils carrying out exciting practical experiments at home such as incubating pheasant eggs and fostering a family of tadpoles. The wider academic work has also involved water conservation projects supported by GlaxoSmithKline and attending Royal Society of Biology webinars on vaccines.
New societies have been established: Groups have met over Zoom to discuss poetry, art, criminal law and stargazing. One pupil built a solar-powered water purifier which turns sunlight into thermal energy to heat a tray.
Pupils have also made the most of workshops with artists and authors, computer programming courses with Microsoft and university-run sessions on behavioural economics and history. Pupils studying psychology and criminology caught up with Hunted star and former detective Peter Bleksley. They asked some good questions and got a great insight.
The very first Haileybury Spectator was published. It's packed with pupil insights, articles and creative contributions. And you only need to scroll through the Connected Magazine to get a feel for the breadth and depth of pupil activities.
Our musicians have honed their skills and kept us all entertained at the same time. Pieced together from individual performances, Living in Harmony, Eye Of The Tiger, and an Irish Blessing were exceptional.
Our new Chaplain, The Reverend Chris Stoltz, has captivated the whole Haileybury community with his thought-provoking videocasts. The CAS Sixth Formers have excelled themselves with a range of innovative initiatives.
Old Haileyburians have done their bit too. They've provided invaluable insights into life at university for our pupils. The Haileybury Connect What It's Like webinars have covered economics, business management, marketing, biochemistry, medicine, engineering, politics and international relations.
There's been no let up for our talented sportsmen and women. Despite being starved of the competitive action they crave, they have been disciplined and creative. Two pupils ran a half marathon. Together, they've completed triathlons with a twist and charity challenges.

'Wow! Thank you so much to all of you for your support!' That's how the NHS Charities reacted on Twitter to news of our U15 hockey girls running or cycling the equivalent distance of Haileybury to the Highlands (640km) to raise funds. Not only did they smash their target, but they did it with a day to spare.
Each day of the Connected School has begun with a brilliant Get Active session from Mr Satt via YouTube. You might have heard him feature on the Be Ready Podcast available on iTunes? He discussed the experience of working in Japan with England Rugby head coach Eddie Jones.
Pupils have enjoyed some unique sporting opportunities themselves. They've had Zoom Q&A sessions with international athletes from the worlds of rugby, hockey, netball, athletics and cricket.
We held a Just Be wellbeing day for the first time. It involved a full timetable of uplifting activities to promote positive mental health and pupils jumped in with both feet.
There has been an avalanche of high-standard entries for Photo of the Week and Drawing of the Week. Lockdown recipes are being compiled into a book to support the NHS.