Arts, crafts and acts of kindness: Pupils get creative during lockdown
Virtual classrooms and video meetings have helped keep our pupils in regular contact with teachers and tutors. But away from the Connected School, Sixth Formers have been finding innovative ways to stay stimulated, develop skills and help others.
They have been making the most of Creativity, Action and Service (CAS) – a core element of the International Baccalaureate Diploma Programme (IBDP) which is offered to pupils as an alternative to A levels.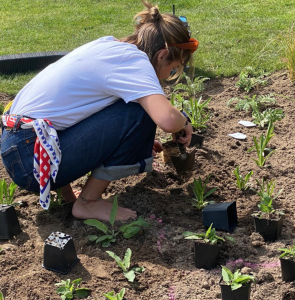 CAS projects enhance pupils' personal and interpersonal development through experiential learning. "It's important to find passions and learn about what you love," says Sitara, who has made colourful face masks from recycled Indian saris to protect people in New Delhi.
"As hard as the pandemic has been for so many people around the world, hope and positivity can help us through this," she added.
Another pupil, Elin, supported flood defence efforts in her hometown. She helped position sandbags on the eve of heavy rainfall. Mahaut created her own sweaters and t-shirts with profits supporting a coral reef conservation programme in Tahiti. Ida has been plaiting pearled bracelets and posting them to friends around the world.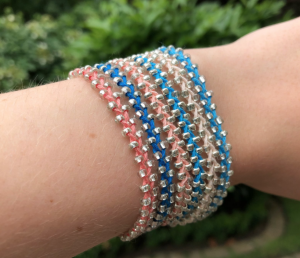 Paul has helped out with a Bridge of Giving in Germany – arranging acts of kindness for the homeless – and Emily's podcast charts Haileybury life throughout the pandemic.
Adam learned to play the ukulele, Thomas ran a half marathon to support the NHS and Mikee created re-usable shopping bags from scrap material. Moritz has built an aquarium and Lucy has cleared litter from a popular trail route.
"CAS has allowed me to aspire to do certain activities that I may have never done before and with CAS I often try something new and I end up enjoying it," Sixth From pupil Tom said.
Urav, who's also a CAS pupil, added: "I would have never tried to think so far outside the box, challenge myself more and try to improve other people's lives in such a big way."
"The important role of CAS in the wider education of pupils within the IBDP has never been more evident," said Giovanna Iorio, who oversees the projects. "Research has shown that a sense of engagement is important to wellbeing with CAS pupils learning perseverance and the tenacity to continue with a task or activity, even though challenges may occur."
Haileybury is ranked in The Sunday Times Top 10 for co-ed independent schools which offer the IBDP.