Tzi's winning design hits the right notes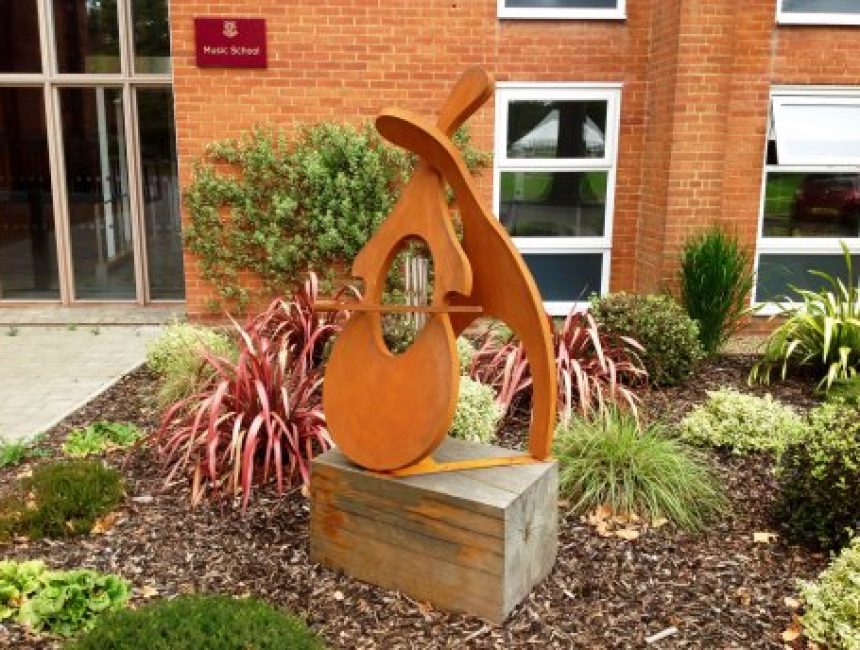 Haileybury's Music School has a beautiful new sculpture thanks to talented Upper Sixth pupil Tzi Yin Yong.
Tzi won a Design Technology competition to design a sculpture for the recently refurbished Music School. Her winning plan was chosen from a shortlist of fantastic projects from all year groups. 
Her cello sculpture (pictured above) has been crafted out of weathering steel and is now taking pride of place in front of the Music School. 
Tzi said: "I wanted the sculpture to reflect both the classical and modern sides to music. That is why I chose a cello to work with as it is a sturdy and traditional instrument. I designed the sculpture in a more modern and simplistic fashion to reflect the new Music School after its renovations. I also wanted the sculpture to be a bit more playful and that is why the four strings are wind chimes.
"I was extremely happy to have won the competition and am absolutely overjoyed to have it displayed on the school's grounds now! To me it is as if I have made my mark here at Haileybury."
Tzi, who is just about to start her Upper Sixth year at Haileybury and is in Hailey House, is studying Design Technology for A Level.
She said: "I really enjoy Design Technology! Having studied it for both GCSE and A Level, I spend a large amount of my time in the DT building already. It is definitely something I can see myself going into in the future as I am already thinking of doing Mechanical or Design Engineering at university."