Pele's O Jogo Bonito – "The Beautiful Game" – is a relatively recent addition to the sports curriculum at Haileybury. Those who play are held in high regard, with most of the School now turning up to watch and enjoy matches – whether played by boys or girls.
Football at Haileybury gained recognition in the late 1960s and early 1970s and has grown hugely since then due to the continued demand, enthusiasm and talent of pupils of both sexes.
Schools competitions
Haileybury fields up to five Senior (Sixth Form) teams and three teams at U16 (Colts), U15 (Junior Colts) and U14 (Yearlings). During the Easter Term, Haileybury competes against Harrow, Tonbridge, Wellington, St John's (Leatherhead), St Paul's and Radley in a mini-league.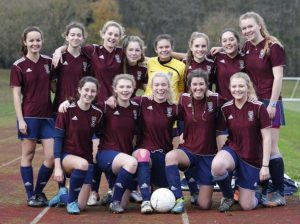 Girls' football
Since 2003 football for girls has been actively encouraged at Haileybury, with fixtures usually played in the summer term. The inaugural Haileybury girls' football tournaments for U18, U15 and U13 teams took place in 2013 involving over 20 schools.
In 2014, on the day the World Cup kicked off in Brazil, Haileybury girls beat eight other schools' teams to win the U15 Haileybury Tournament.
Scholarships
At Haileybury, our Sports Scholars are those with strong sporting and leadership abilities and a particularly impressive competitive ethic. Scholarships for talented football players are well contested; the best will also be invited to join our High Performance Sports Programme. The link at the bottom of this page gives more information about Sports Scholarships at Haileybury.
Fixtures, results and other information
To learn more about our forthcoming football matches, about recent results, and about Sports Scholarships at Haileybury, please follows the links below: