Weekend highlights: Netball, football, lacrosse and Run for Ally
It was another Saturday of strong sporting performances across the school before Sunday's poignant charity run.
The 1st VII netballers made it five wins in a row with a convincing 47-17 victory at The Leys School and there was an impressive result in the lacrosse from our Seconds who defeated Oakham School 11-4.
It was a tough round of matches for our footballers who came up against a strong set of sides from St John's School Leatherhead but our 2nd XI drew 0-0 and the 3rd XI won 3-1.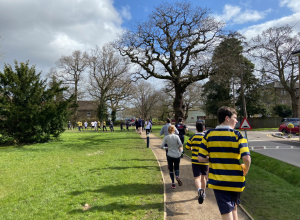 Also in the netball, there were wins for our Seconds and U15C team while the Thirds drew.
On Sunday, we had around 200 taking part in Run For Ally 2020. Pupils were joined by parents and staff who completed the 5K or 10K route, fundraising for Cardiac Risk in the Young.
It followed the dedication of a stained glass window in Chapel (pictured above). The design incorporates significant symbols from Ally's life including the Thomason House griffin, the mountains of Piedmont and his cat, Toffee.