War Requiem marks a great success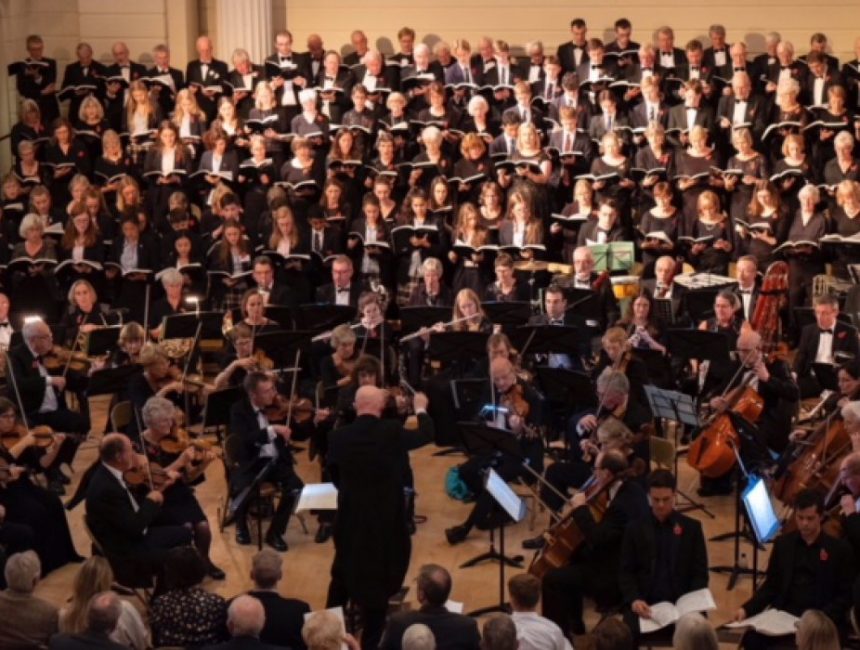 A remarkable performance  
Benjamin Britten's War Requiem was performed for the first time at Haileybury on 4 November.
The concert was a rare opportunity to hear Britten's extraordinary work and caught the attention of the community with over 400 people attending the event.
Commissioned to celebrate the opening of the new cathedral at Coventry, built to replace the one destroyed by bombs, the War Requiem is regarded by many as a masterpiece in the non-operatic sphere.
Conducted by Andrew O'Brien and Simon Bland and made up of musicians from our school, old pupils, Hertford Philharmonia, Royston Choral Society, and a Chamber Orchestra of our own instrumental staff, the project involved 255 performers, of which 105 were children.
The 36 strong Lower School Chamber Choir sang the part that was originally performed by a boys choir. The Chapel and Chambers then joined by our staff and parent choir and Royston Choral as well as soloists, tenor James Way, soprano Nina Bennet and baritone Lukas Kargl.
Director of Music, Andrew O'Brien commented: "The War Requiem is a monumental piece: musically, literally, architecturally and aesthetically. It was an amazing experience to bring this work alive in the local community."
Andrew also added: "The students have been working fantastically hard. It has been a project that has involved the pupils from the outset. They have been involved in study days at The Red House, Britten's former home in Aldeburgh, where they have seen the original manuscript of 'Anthem for doomed Youth' (Owen) and Britten's own War Requiem conducting scores. They also had the amazing opportunity to perform in Britten's library and use one of his pianos."
The audience considered this special performance 'remarkable'.