Sixth Form pupil in the frame to land major acting roles with National Youth Theatre membership
A Haileybury Sixth Form pupil is on track to appear in national theatre productions, films and TV shows after she was made an official member of the National Youth Theatre.
Charlotte, who played the lead role in a school production of Mine last October, was selected following a successful audition alongside 3,000 other applicants.
Once she has completed an induction programme, Charlotte will have exclusive access to castings for national productions, films and TV shows.
"During the build-up to results day, I tried to maintain a very modest mindset," she said. "Because I met a lot of people in my audition who told me this was their third of fourth time trying out, so I knew the competition was extremely high, and how difficult it is to get in.
"When the day came, I was extremely nervous, but as soon as the email came through telling me I'd been successful, I was thrilled, and honestly shocked."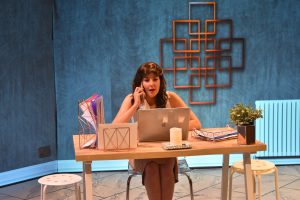 Charlotte, who went through a two-hour workshop before a one-on-one audition, benefited from the accelerated experience of preparing for a school production.
"If it wasn't for the Sixth Form play I performed last October, I don't think I would've been as prepared for my audition as I was," she said.
"This process put us all under pressure, which worked in our favour, as we then produced the most amazing production.
"The feedback from the audience reminded me of my passion for acting – and how much I enjoy being on stage doing what I love the most."
Charlotte says she was supported and inspired to succeed by her LAMDA teacher, Mrs Steedon, and the school's Director of Dramatic Arts, Mr Thomas.
"I do believe that if I truly dedicate myself, anything can be possible," said Charlotte, who dreams of landing big roles in the future.
"Not everyone is successful within the industry but getting into the National Youth Theatre is a huge step in the right direction. It has definitely paved a clear pathway that'll help me achieve my dream."