Old Haileyburian Girls versus Haileybury 1st XI Girls annual hockey match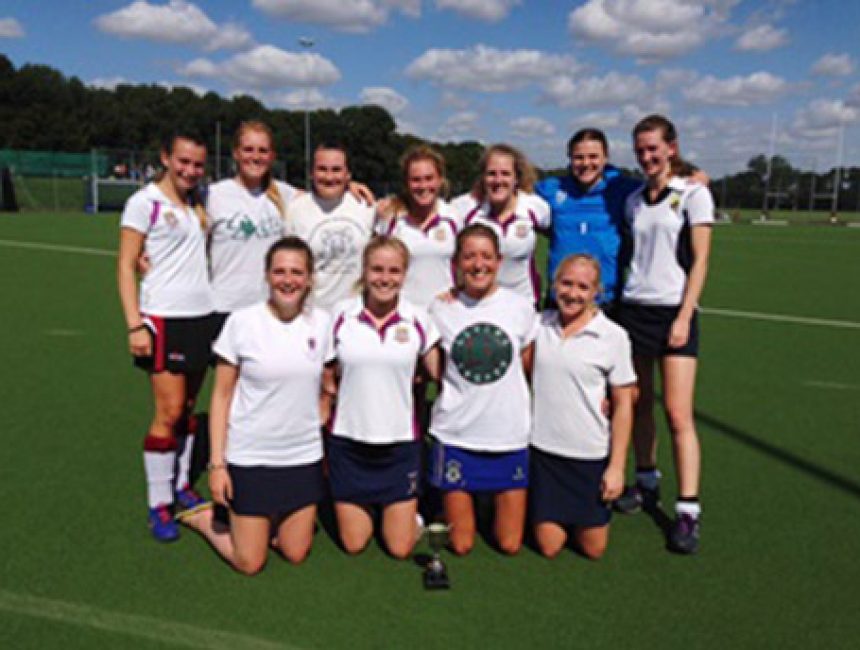 Sunday 6 September saw the Old Haileyburian (OH) Girls take on the Haileybury 1st XI Girls in a nail biting hockey match.
This was the third year running the two sides have competed for the coveted Nunn Cup, which is named after Old Haileyburian Tony Nunn, a bronze medal winning Olympian hockey player.
The spirit the match was played in was superb and to have such a range of ages from a variety of Haileybury vintages was brilliant. The quality of hockey was excellent with some scintillating passages of play from both sides.
The OH team boasted Premier League winning Surbiton Ladies 1st XI goalkeeper Vicky Hewett, as well as Cambridge City National League centre forward Fran Burn, not to mention Exeter University 1st XI half back Alice Coley and Hertford HC captain and centre midfield Molly Pallett – among other keen and enthusiastic players.
Our young 1st XV coped admirably, and one might argue, were unlucky not to get anything from the game.
Getting the ball in the net past Vicky Hewett proved impossible, and JJ Billings slotted a goal in the last five minutes to take the CUP for the OHs for the third year running. The final score was 1-0.
Emily Sanders had a battle royale with Fran Burn and at the other end of the park, in another lovely duel, we saw Lucy Price tussle with Vicky Hewett all afternoon – England forward versus international class keeper – superb!
As ever with this game, the result really doesn't matter, far more important is the sense of camaraderie it brings and the chance for current pupils to link up with former pupils. And of course OH and staff to reignite old friendships and contacts.
I am sure that we can make even more of this in the future and encourage even greater numbers of OHs to return.
To top things off, the game was officiated excellently by two other OHs (of sorts!): Simon Spencer (father of Ben, formerly in Bartle Frere) and Annie Thomas (staff for many years).
Andy Searson, Director of Sport