Netballers have extended stay in Malta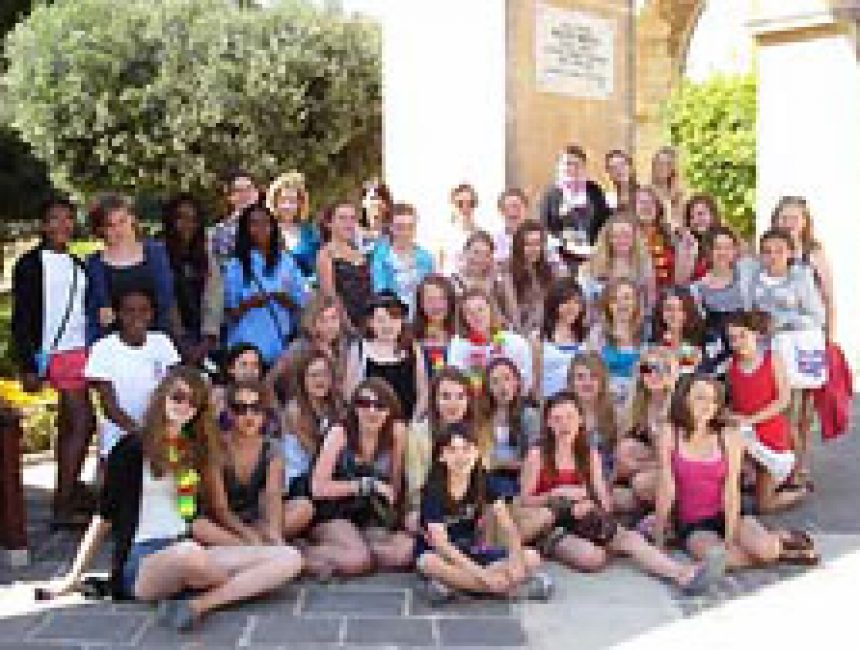 When 46 Haileybury and Edge Grove pupils and seven staff embarked on a week's netball tour to Malta on 10 April, little did they realise what was ahead of them and that their trip would actually be forcibly extended to 12 days.
Originally due home on Saturday, 17 April, by the time the group returned to Haileybury on the evening of Wednesday, 21 April, the netball had been all but forgotten.
Says Annie Thomas, one of the teachers in charge of the group: "Arriving in Malta, the five squads of 11, 12 and 13-year-olds were excited at the prospect of playing a series of four matches per team against local schools. This excitement almost turned to fear and terror as we discovered that most of their matches had been arranged against adult teams!"
All five teams understandably lost their first round of matches but the U12 C team did manage a win against a local school on the second day. Of the 20 matches played, Haileybury and Edge Grove managed four wins, with the U13 A team memorably beating Pawla Grove adults 25-21.
As the girls were playing their last netball matches, news broke of the volcano eruption in Iceland and the subsequent disruption to air travel. At first, it seemed as if the delay would be a day or so but it soon became clear that it was likely to be much longer. Extra trips to Valletta, a visit to the cinema, quizzes, and games on the beach were arranged as staff attempted to find a route home.
"The girls were magnificent and took it all in their stride, with just a few tears as most were more than happy to have an extended holiday. Staff reminded the girls that, unlike many travellers caught up in this situation, we were extremely lucky as we were able to stay in our hotel so were safe and comfortable, with wonderful weather," says Annie.
With a definite flight booked to Paris for Friday, 23 April, on Tuesday the group were just settled on the beach when the call came through to get to the airport as quickly as possible.
"We commandeered a local bus to rush us back to the hotel but, as we travelled, another call came to say there were only 20 seats so these were given to another smaller group." Back at the hotel, all the girls were instructed to pack and be ready to depart at short notice – just as well as within an hour another call came through saying "Get to the airport now as there's a flight to Marseille for you all".
So, at 4pm we left the hotel and went to the airport for a 6pm flight, which was subsequently delayed until 8pm: there was an audible sigh of relief from the staff as the plane finally took off! Once in Marseille they were ushered on to a coach for the 12-hour overnight road journey to Calais.
"Calais was chaos, with Foreign and Commonwealth officials unsuccessfully doing their best to speed us through French bureaucracy," she continues. "Finally, we made it onto a ferry and headed off to the welcome sight of the White Cliffs of Dover. Then a relatively short coach trip (despite inevitable jams on the M25) back to Haileybury and the children were safely delivered to the waiting arms of their relieved parents. Certainly one trip never to be forgotten!"