Just one week to go until special charity concert at Haileybury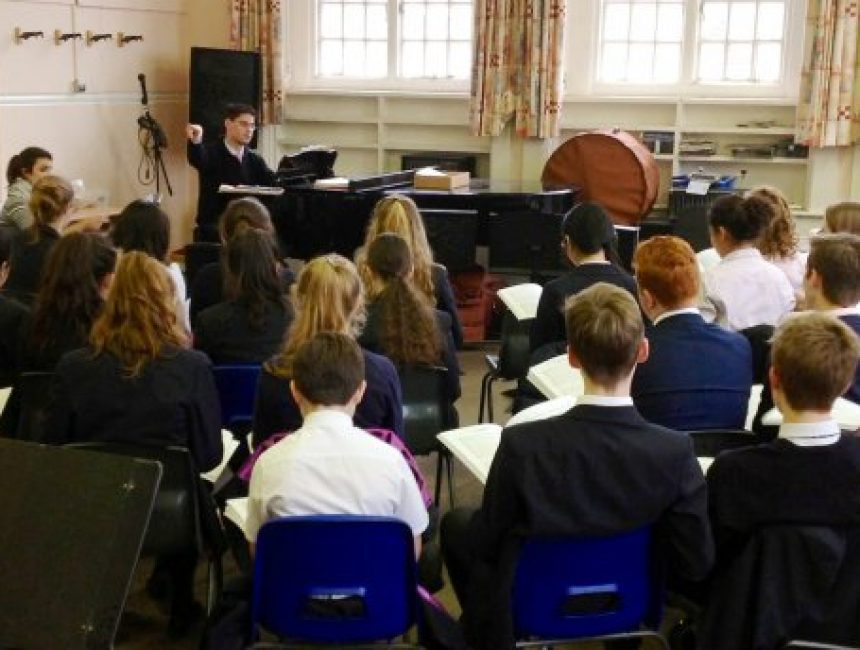 Final preparations for a big charity concert at Haileybury are in full swing.
On Friday 27 November, singers from our Chapel Choir and Choral Society, the Borealis Chamber Players and renowned soloist Christina Petrou will come together to perform David Fanshawe's African Sanctus.
The performance will include a live band and will be conducted by our Director of Music, Ryan Hepburn. It will take place in our historic Big School venue, which will be decorated with colourful Ugandan wall hangings.
Ryan, pictured above in one of the final rehearsals for African Sanctus with our choir, has performed in venues such as St Paul's Cathedral and the Royal Albert Hall, and has worked with Steve Reich and Katherine Jenkins.
African Sanctus is a theatrical and dramatic work which fuses together a choral mass with field recordings of traditional African music. Composer David Fanshawe famously made the recordings on extensive travels through Africa between 1969 and 1973, and the project was the subject of his popular book and a BBC TV documentary.
The concert is being held to mark the Haileybury Youth Trust's 125th anniversary and to raise funds for the charity. The Haileybury Youth Trust works in Uganda to transform lives and livelihoods.
Tickets are £10 and all proceeds will be donated to HYT's 'One Village at a Time' project, which trains young Ugandans to build low-cost low-carbon homes and schools and install water tanks.
The aim is to give the trainees valuable new skills, independence and employment and to help them to transform their own villages and communities.
African Sanctus will start at 7.30pm in Big School.
Tickets are available in advance or on the door. Please click here to reserve your place or you can email: boxoffice@haileybury.com