Hats off to our trio of Oxford graduates for their hat-trick of first-class degrees
Three former pupils have graduated from the University of Oxford with first-class degrees – in the same year.
Josephine, Jeanne (both Allenby) and Kendya (Colvin) all left Haileybury in 2016 or 2017. The girls, who all took the IB, are celebrating academic success having developed – what they describe as – important traits at school.
"Haileybury helped me become intellectually curious," said Josephine, who studied English and Modern Languages. "The small classes [at school] also prepared me for the Oxbridge tutorial system and helped me gain confidence in my ideas."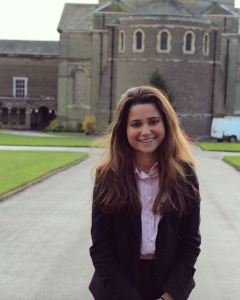 Josephine (pictured at Haileybury) added: "I constantly felt challenged and pushed but also very cared for as it is clear that the tutors are just very invested in your growth."
Jeanne, who studied theology and religion and was named rowing captain of her college, is staying in Oxford for an MSc in Sociology. She also considers her time at Haileybury as the perfect preparation for university.
"The boarding house system mimics the collegiate system at Oxford and that made me feel right at home," she said. "And my teachers at Haileybury were truly wonderful and I always felt supported and encouraged throughout my academic journey."
Kendya was president of her JCR (undergraduate student body in the college) and treasurer of the tri-annual College Ball.
"I definitely believe that Haileybury's atmosphere really prepared me to thrive at Oxford because of the many similarities," Kendya said.
"At Oxford, as at Haileybury, people were busy all of the time, and my college had a buzz very similar to the buzz of life Haileybury always had.
"School made me more confident in that type of an environment, and taught me that life is always better when you fill it with a variety of activities. Also, I would say the discipline gained from the structure of the school day at Haileybury, in particular having two prep sessions in the evening, was hugely helpful."