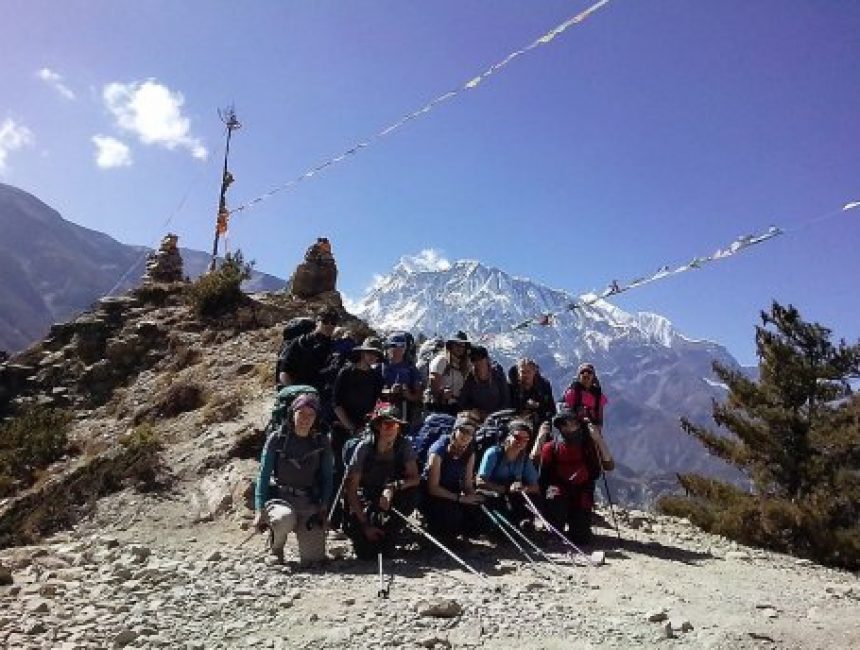 Seeing the Northern Lights and trekking the Himalayas are just a few of the things pupils have been getting up to this half term.  
In Nepal, a group of intrepid explorers are currently taking on the Nepal Annapurna Circuit, which is widely considered to be one of the best treks in the world.
Since flying into Kathmandu Airport, the pupils have trekked to villages and places such as Bhulbhule, Bahundanda, Chame, Manang and Yak Kharka, taking in stunning views and scenery along the way (pictured).
Today the team arrived at High Camp – the clue is in the name as it has an altitude of 4,833 metres!
Meanwhile, a number of pupils are in Uganda to see the work of the Haileybury Youth Trust (HYT), our very own school charity, first-hand. 
HYT creates environmentally-friendly housing and buildings using a pioneering construction block that has far less impact on the environment than traditional bricks.
As well as visiting villages that HYT has helped to transform, the pupils have found time to see some of the country's sights, including the impressive Sippi Falls. 
Elsewhere, twenty-two pupils have just returned from a diving trip to the beautiful Maldives. Highlights included following a pod of dolphins, spotting nurse sharks, whale sharks and turtles, and diving at night.
Fifty Fifth Form Geographers had a brilliant trip to Iceland last week; they swam in the geothermally heated Secret Lagoon, saw the golden waterfall at Gulfoss, and were lucky enough to see a spectacular Aurora Borealis – the Northern Lights.
Last but not least, a bunch of Classicists had a superb time on the island of Sicily soaking up the numerous classical sights, including the ancient Temple of Concordia, the Teatro Greco in Taormina and the Valley of the Temples at Agrigento.
We hope everyone has a well-deserved rest before term starts again next Monday!