Haileybury pupils raise £32,000 for charity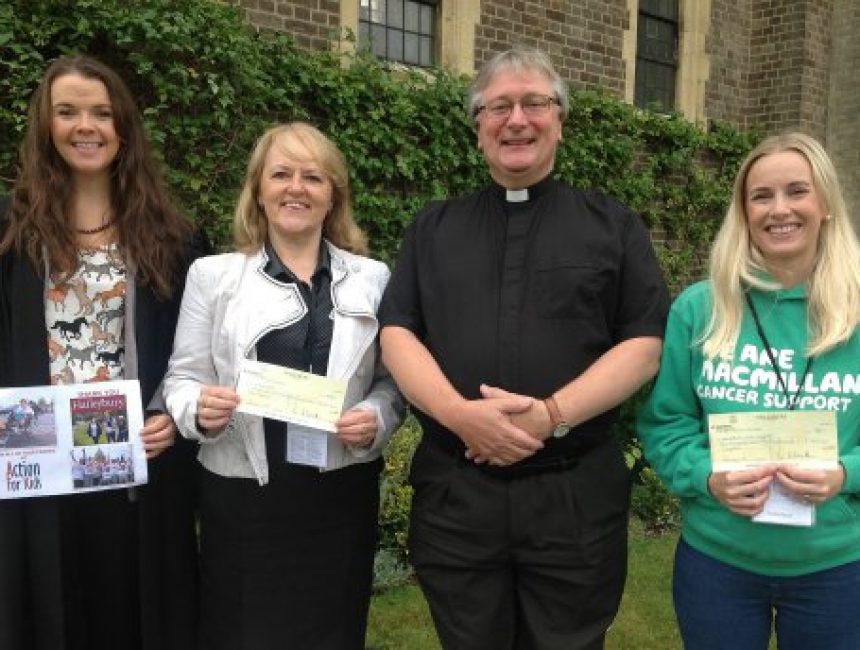 After a year of inventive fundraising – from wearing Christmas jumpers to walking 14 miles across the Lee Valley – pupils at Haileybury have raised £32,000 for charity. 
The funds have been donated to our 2015-16 chosen charities: Action For Kids, which supports and empowers young disabled people; Macmillan Cancer Support, which improves the lives of those living with cancer; and the Haileybury Youth Trust, which works with impoverished young Ugandans to equip them with skills and transform lives.
Back in September 2015 a pupil committee was set the task of creating and organising a schedule of events throughout the school year to raise funds for the three charities.
These included a glamorous Winter Wonderland ball, festive Christmas jumper day, donut and cake sales, Valentine's roses, staff versus pupils' basketball match, 14 mile walk across the Lee Valley, and a university challenge style quiz.
In total, over the course of the school year 2015-16, they raised just over £32,000.
This Autumn term, pupils kicked off another year of fundraising for the 2016-17 charities, which were chosen following a school-wide vote. They are Future Living Hertford, Starlight Children's Foundation, and the Haileybury Youth Trust.
Future Living, which is based at Vale House in Hertford, helps people to recover from the illness of addiction. It offers a range of therapies, including group therapy, one-to-one counselling, volunteering and training. It also runs group therapy for female survivors of abuse and assault.
Starlight Children's Foundation grants wishes to seriously and terminally ill children, and entertains over half a million children every year in hospitals and hospices throughout the UK. Starlight is celebrating its 30th birthday this year.
Mrs Sarah McDonald, who is Head of Religious Studies and Philosophy and oversees Haileybury's charity work, said: "Charity is something that is really important to us here at Haileybury; we aim to develop in every pupil a sense of giving something back to the community. Service is one of the key attributes of being a Haileyburian, and the College has been involved in charity work since it first began.
"Thank you and well done to everyone who helped to raise such a fantastic amount of money, which we hope will make a real difference to people's lives. In particular, thank you to all the pupils in the Charity Committee for their tireless work, including last year's wonderful Charity Prefects Tobe Rapu and Alicia Tisserand. We are now looking forward to another jam-packed year of fundraising for our 2016-17 school charities."
Pictured: Mrs Sarah McDonald, who is Head of Religious Studies and Philosophy and oversees Haileybury's charity work, Lyn Prodger from Action For Kids, Reverend Chris Briggs, College Chaplain and Kerry Cunnane from Macmillan Cancer Support.