Hailey and Alban's win house debating finals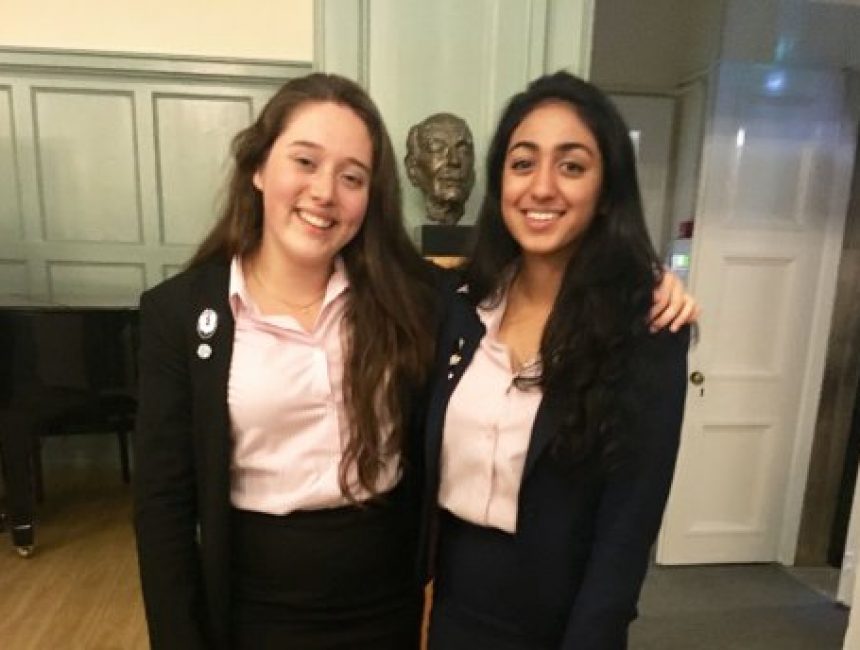 The fourth week of term brought the highly anticipated junior and senior finals of house debating after returning from the exeat weekend, reports Upper Sixth pupil and Deputy Head of School Xanthe Drinkall Gash.
At 8.30pm on Monday evening supporters filed into the Attlee Room to watch the opposition of Alban's Maddie Aves and Imogen Horne and the proposition of Hailey's Magnolia Thain and Diya Walia debating the controversial motion: 'This house believes that important decisions about children's health should be made by medical professionals and not by their parents'.
Both teams had only had an hour to prepare their arguments, having been told the motion at 7.30pm. Nevertheless, they each incorporated excellent points into their speeches and made interesting points of information during debate.
Afterwards the floor was opened for audience members to ask any questions, which both teams responded to very well. All in all, it was a fantastic debate that was very close and difficult to judge; however it was Hailey that took the junior house debating title – a well-deserved win!
Fast forward twenty-four hours and the Attlee Room was buzzing for the seniors to debate their motion: 'This house believes that the government should incentivise vegetarianism and veganism'. Both the proposition of Edmonstone's Sebastian Parry and Eliot Barrett-Holman and the opposition of Alban's Kenisha Paliwal and Marie Obrowski (pictured) had also had one hour to prepare their arguments.
Ben Hirschfield chaired the debate, which was bound to be of high-quality with all debaters a part of the Haileybury Model United Nations Secretariat. With seven-minute speeches, they did not disappoint. Excellent arguments were brought forward with thoughtful points of information that certainly provoked some feisty responses.
While Alban's used steely sass against their opponents, Edmonstone provided the entertainment with Eliot and Sebastian's hilarious double act. In the end it was Alban's that took the crown, but both teams debated to such an impressive level.
Pupils now have the Friday evening debates organised by the Debating Society to look forward to, beginning with this Friday's 'This house would get rid of Sixth Form matriculation requirements at Haileybury'. Zara Everitt and Xanthe Drinkall Gash make up the proposition and Eliot Barrett-Holman and Al Mutasim Elbireer will oppose the motion. It promises to be an exciting debate!