England rugby legend Lawrence Dallaglio inspires pupils at Haileybury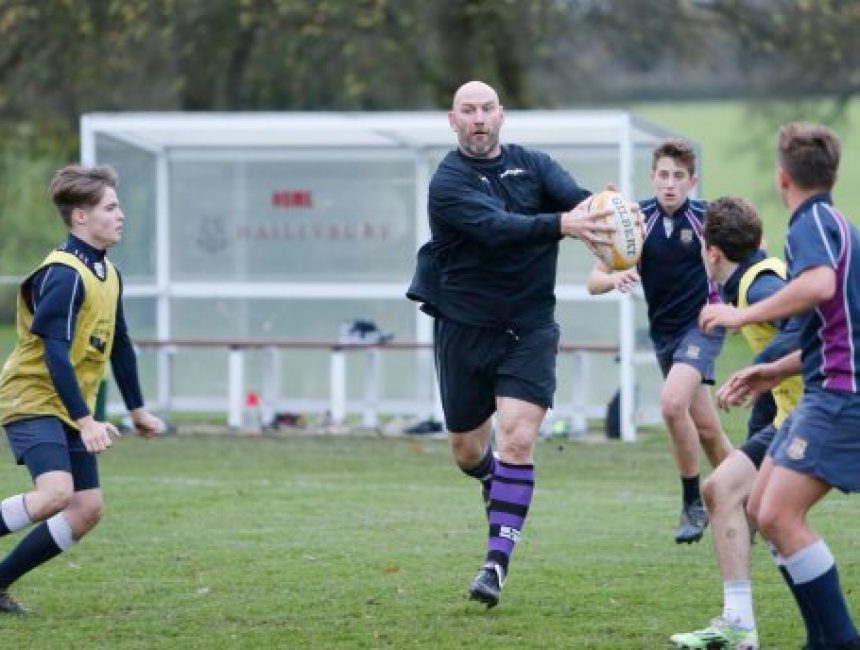 Budding rugby stars at Haileybury had the opportunity to learn from one of England's best ever players on Thursday 26 November.
Former England rugby captain Lawrence Dallaglio OBE visited the College to meet pupils and staff and to share his expertise.
One of the many highlights of the day was a 'breakdown' masterclass with the Under 16s rugby team. In the session Lawrence shared his top tips for mastering the phase of play, which is often considered to be an important factor in winning a game of rugby.
Lawrence was part of Sir Clive Woodward's Rugby World Cup-winning England squad in 2003. During his highly decorated career he also played for the British and Irish Lions and Wasps.
Since retiring from the sport in 2008, he has established the Dallaglio Foundation to help support young people using the power of sport.
During his visit to Haileybury, Lawrence also gave a talk to the school community about rugby around the world and his own experiences as a top international player.
Haileybury pupil Sebastian Brownhill, who is a Dallaglio Foundation scholar, introduced Lawrence to the audience.
In his talk, Lawrence said it had "been a pleasure to meet, talk, and listen to the pupils" and described Haileybury as a "magical place to be."
"I think we have a huge amount of talent in this country," he said. "What I have seen today at Haileybury reinforces that."
Andy Searson, Director of Sport said: "Lawrence is one of the greats of the game and it was an honour to have him here at Haileybury. We are having a rare time of it at the moment, having recently hosted the Argentina and USA teams during Rugby World Cup 2015, as well as Alastair Hignell, and a visit from Lawrence Dallaglio has topped off a wonderful autumn.
"I know our pupils have been truly inspired by his visit and have taken a lot away from the experience. Our Under 16s had the chance to be coached by Lawrence in a masterclass, and the boys' rugby teams – from the Under 13 C team through to the 1st XV team – greatly benefitted from meeting an England legend.
"Girls' rugby has really taken off at Haileybury and meeting Lawrence was a great boost to their development. And scholars from our High Performance Programme were lucky enough to have a session on how to maximise their potential."