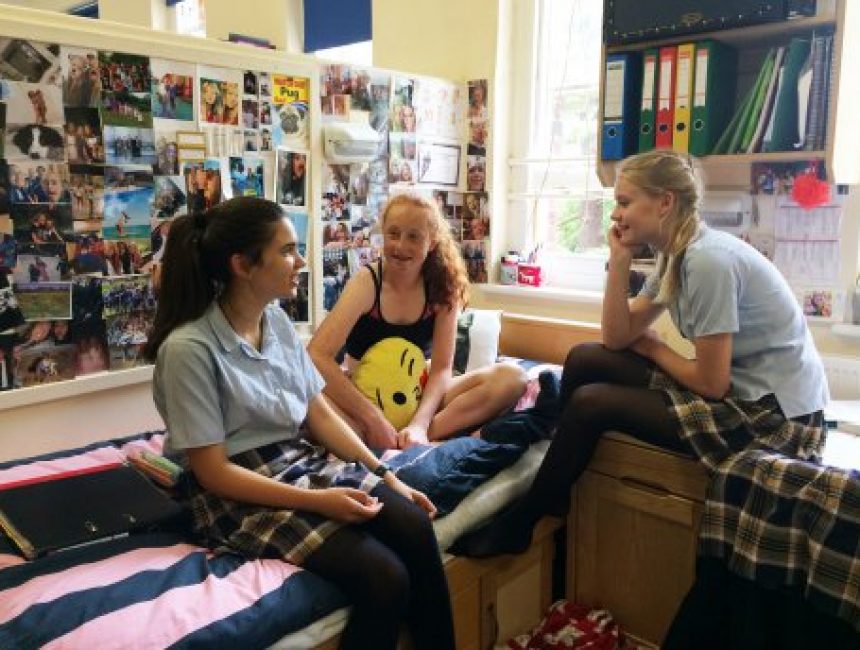 To mark National Boarding Week last week, we spoke to five pupils from one of our girls' houses, Hailey House, to find out what they think about boarding.
Our boarding house system is key to Haileybury life. We have five girls' houses and seven boys' houses, plus our Lower School boarding house, each with their own individual character.
Day pupils and boarders live side by side in the houses, with many pupils boarding from Monday until Saturday and then spending the weekends at home with their family. For those pupils who stay at Haileybury at the weekends, we offer a variety of activities to make sure that everyone is kept engaged and feels like they are among a caring family of friends.
Beliz, Issy, Iris, Milly and Tara are in Removes (Year 9) and are a mixture of boarders and day pupils. Over to you, girls…
Beliz: "Being at Haileybury is really nice. I am a boarder but I don't feel homesick. We have two dogs in this house (Alfie and Charlie – owned by Housemistress Mrs Baker) keeping us company! At the weekends we often do cooking and baking. On some Thursdays we have 'In-Nights', where we do fun things such as have a BBQ, eat pizza or do karaoke."
Iris: "We love the slip and slide (giant outdoor water slide), which we do in the summer!"
Tara: "Recently we went over to Alban's (one of Haileybury's other girls' houses), where we gathered together to watch movies, which was really fun."
Issy: "I board for fun – I am a day girl but I like to board for fun."
Beliz: "Hailey is really good for international pupils. I am from Turkey and I have friends who are from China, Russia and India. We celebrate lots of different festivals throughout the year, including Holi and Chinese New Year. Being together all at once improves my English! At the weekend, on Saturday nights we often watch a film, or sometimes a football match. On Sundays we will often go shopping and sometimes to London, but most of the time we just chill-out."
Issy: "It is really flexible. I have a good social life here. I enjoy watching films and chatting with my friends."
Beliz: "We do laugh really hard a lot of the time!"
Tara: "The people in my dorm are like second sisters. I could have been a day pupil but I wanted to board."
Finally, we asked boarder Beliz to describe her typical day:
7.10am: I wake-up when my alarm goes off, and there is also a bell.
7.15am: I get out of bed and get changed and do my hair.
7.35am: We walk over to the Dining Hall to have breakfast; the menu changes every day. On Tuesdays and Thursdays there is bacon, sausage, fried egg, baked beans and hash browns – which is my favourite! On Fridays there are pancakes.
8.05am: I brush my teeth and collect my books ready for lessons.
8.15am: We have 'Call' (also known as registration) in the Common Room. This is also a chance to look ahead to what is coming up that day and read out any notices.
8.30am: We have Chapel with Reverend Briggs and sing some hymns.
8.50am: Lessons.
10.45am: During the 'Half' (also known as break) we come back to the house. Three days a week there is a tuckshop which sells yummy food.
11.15am: Lessons.
1pm: We go to the Dining Hall for lunch. After lunch we go back to the house and relax. Some pupils do activities such as music during this time, for example the Choir, String Group and Orchestra.
After lunch on Tuesdays and Thursdays and Saturdays we play sport. On Mondays and Fridays we have normal lessons. On Wednesdays we do Coghill (a personal development programme for pupils in Removes), which is activities such as first aid and swimming survival. We then have a couple more lessons.
5.30pm: This is first Prep (homework).
6.30pm: We have dinner in the Dining Hall – my favourite is pizza or chicken wings!
After dinner we have free time. In the summer we often play games outside and see our friends from other houses.
7.30pm: This is second Prep.
8.30pm: We have free time to chill and socialise. On Thursdays we have 'In-Nights'; tonight we are having a BBQ in the garden.
And then to bed!