Skype sessions connecting linguists with acclaimed artists and writers
Pupils studying Italian have been making the most of Skype sessions with highly-regarded writers, artists and philosophers.
The Sixth Formers have also enjoyed Q&A classes with poets and psychologists – many of whom are based at top universities in Italy.
It's an extension of their coursework in class and involves pupils delivering a short biography for the guest speaker at the start of each hour-long session.
'Le Video Conferenze' has even led to pupils working with the speakers on projects outside of the classroom.
"I don't want them to lose touch with the Italian culture," said Giovanna Iorio, Haileybury's Head of Italian.
"It's something which I have done for many years [Skype sessions] and when I came here, it felt even more necessary to do.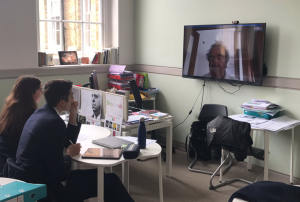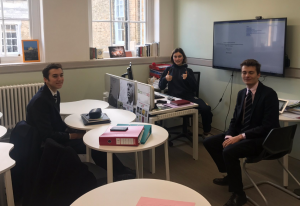 "They have some really interesting dialogues and it makes them feel good that they're able to do that."
"They are learning skills of interviewing people, being able to debate, and they often ask some very interesting questions. It's very good for me to see that because we have to teach them to respond in a natural way – not just using a script."
Pupils have recently spoken to one of the most high-profile poets in Italy, Maria Grazia Calandrone, renowned artist Silvia Stucky, and acclaimed authors Jeffrey Cramer and Beppe Sebaste who commented afterwards that the pupils had a fantastic grasp of his work.