Silver for U16 Girls Hockey team in County Tournament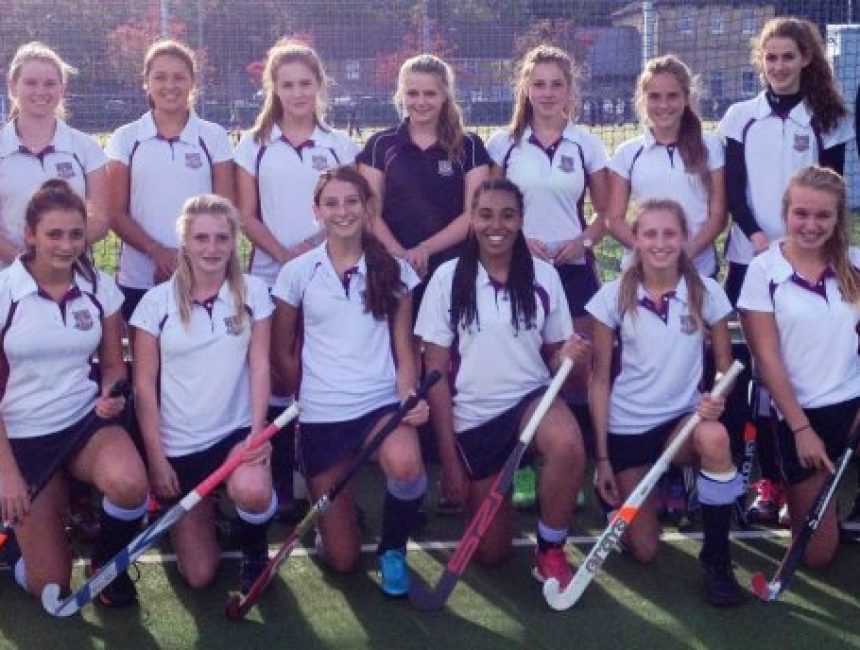 Congratulations to our U16 Girls Hockey team, who came second in the U16 County Tournament and earned a place in the East of England U16 Tournament. This match report comes from our Director of Sport, Andy Searson:
Haileybury came into the U16 County Tournament with few expectations. This group of girls had never played (or even trained) together before, but what was clear from the start of the day was that they were all going to take the opportunity to enjoy their hockey and to work hard for each other.
The first game was against Queenswood School and our lack of experience of playing together was quickly exposed. Positionally we were a little all over the place and so turned the ball over frequently; however, hard work meant that Queenswood never had time on the ball and so they struggled to turn their possession into goals.
The final score was 0-0 but we did manage to establish some key things which would prove crucial as the day progressed; Iona Jones established herself as the organiser and mouthpiece of our backline, while Grace Frewin's power slap from centre back was to be an essential component of our play. Our midfield three, led by captain Xanthe Drinkall-Gash, were to work their socks off (to the point where we had to have five players for those three positions all day due to the work they were getting through). And our forwards also learnt quickly that they would need to stretch the pitch high and wide if they were going to be able to use the space effectively.
A break after our first game allowed time for some team building exercises led by Mr van Bunge and it was with a great deal of confidence that we stepped onto the pitch against Presdales School. However, things were still not quite clicking. Despite plenty of possession and opportunities to score we still couldn't find that crucial goal. The Presdales goalie had a super game and Presdales were good enough to get a goal of their own and sneak the game 1-0.
We were now in do or die territory. Every game had to be won. And we had yet to score a goal. Mr van Bunge had some encouraging words for the girls though and they got quickly into their stride against Hitchin Girls School. That said, goals were still proving elusive and the frustration was clear as Hitchin repulsed wave after wave of Haileybury attacks. We were two minutes from elimination when we finally found the back of the goal. Chloe Landymore had been moved to right back and was providing plenty of menace down the flank; she also showed a great eye for a pass as she lasered a slap from just inside the half way line to Monty Cooke on the left post who just doesn't miss.
With a goal now under their belts the girls started to relax and play some lovely hockey and they found time to add to their tally as another Landymore bullet of a cross was calmly dispatched by the U15 goal machine, Monique Chapman.
That left us with one more pool match and it was a must win game again against group leaders Hockerill Anglo-European College. Haileybury were starting to get into their stride now and this time they took an early lead as Monty Cooke again popped up on the left post to rattle the backboard. Haileybury though, for all their progress during the day, were still guilty of a slight lack of composure at times and this proved costly as we turned the ball over cheaply in the middle of the park and, with numbers on their side, Hockerill made us pay.
It was time for Haileybury to dig deep and leaders started to emerge all over the park. Katie Price and Izzy Bird were driving powerfully down the flanks while Amber Hitchcock's skill dazzled every time she got the ball. Amidst all the tension and helter-skelter hockey, Philine Lichtenberg's calmness on the ball and ability to pick the easy pass shone like a beacon. Lydia Daniels and Jess Zarbafi were ensuring that we provided a tireless work rate through midfield and our forward line looked potent. We looked to have retaken the lead when Emily Hughes rifled off a shot from the top of the D, only for a Hockerill stick to deflect the ball onto the crossbar and away.
We were again just two minutes from elimination when the character and determination of the Haileybury girls came to the fore once more. Shots were raining in on the Hockerill goal and when one of them was only kept out by a defender's foot on the line a penalty stroke was given and it was time for someone to be a hero; Siena Milner stepped up and, in ice cold fashion, sent the keeper the wrong way and buried the flick. There was still time for a few nervous moments before the final whistle though and Steph Berger in the Haileybury goal had to be at her most electric to make a double save to keep our hopes alive.
The 2-1 win was enough to put us on seven points in Pool A, the same as two other sides, but our goal difference and our result against Hockerill was enough to put us through in second place for a semi-final against Bishop's Stortford College.
Having improved a little with every game, the Haileybury girls were confident going into the semi-final and it proved to be their best game yet. They kept the ball well, used the full width of the pitch, played the simple pass and, after all the tension and drama of the earlier games, recorded a comfortable 1-0 win. A goal from Monty Cooke proved enough to send the delighted girls into the final (and into the East of England U16 Tournament).
The final proved to be against Hockerill again and, given our last encounter, another thriller was expected. The game didn't disappoint with chances galore at both ends. Both goal keepers were hugely impressive and the game looked to be heading to extra time when, again on that magical 18 minute mark, a tiring Haileybury side repeated an earlier mistake and turned the ball over in the centre of the park. The Hockerill star player made no mistake, driving into the D and then sending a powerful reverse stick effort past Steph Berger.
With two minutes to go the Haileybury girls gave everything they had left in trying to get back into the game and they did well to win a short corner. There was to be no fairy tale ending this time though as Monty Cooke had her shot saved and Siena Milner's follow up effort beat the keeper but just missed the goal.
The girls had to settle for silver therefore and a place in the East Tournament. They should be delighted with the way that they came together as a team during the day and they should be very proud of their achievement. Onwards to East we go.
Player of the day points:
3: Monty Cooke (forever a threat whenever she got the ball; and she really knows how to score!)
2: Chloe Landymore (outstanding work rate and distribution; hugely missed in the final)
1: Siena Milner (this could have gone to lots of people who were excellent but for being willing to step up and take that flick, and to do it with such élan, Siena gets it).