School spurs us on, say Haileybury showjumping starlets
A pair of showjumping pupils have paid tribute to Haileybury's supportive staff and pupils who spur them on.
Lottie (pictured below) and Amelia (pictured above) took part in the Gosling Cup – an event which featured the Haileybury logo on the rosettes.
The pair performed well in their individual sections, competing against more than 20 teams from across the region and both finishing inside the top eight.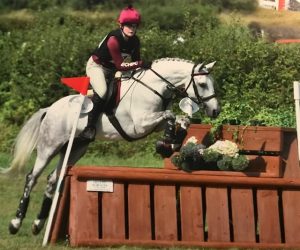 "I feel that being a Haileybury pupil allows me to be ambitious and follow my passions," Lottie said. "Everyone is very supportive and encouraging.
"They also enable me to compete when I have a prestigious event and always wish me luck or ask how it went.
"I feel that the opportunities we are offered are amazing and will help us in later life when we are faced with difficult situations."
A unique feature of the Gosling Cup – which first took place in 1945 – is the cross-country phase ahead of the showjumping.
With four disciplines instead of the usual three, the event at Enfield Chace is considered one of the season's most challenging. "It takes a lot of preparation, time and practice with only a selection of pony clubs invited to compete," Lottie said.
"But it is very much a team event and you have to be completely selfless and think of the team as you are completing your rounds. It is a much more rewarding day too."