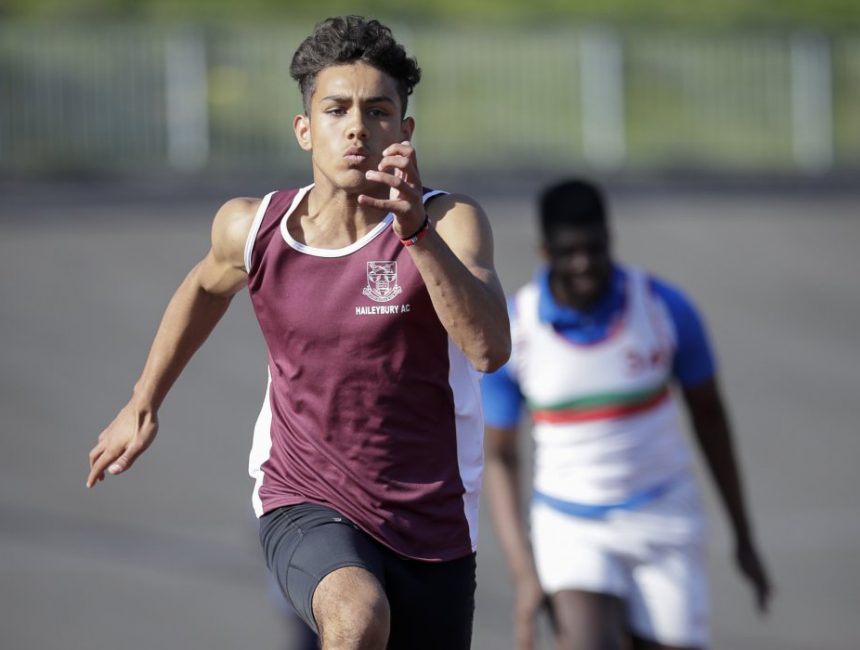 Tariq W clocked an impressive time of 10.6 seconds in the 100 metres at an Hertfordshire Athletics League meet last week – a fantastic achievement, especially as he is 15 years-old! Not only was this a new county league record and a new Haileybury record, but it was also qualifying standard for nationals and completed his hat-trick of national standards (100m, 200m and 400m). We caught up with him to find out more…
How did you feel when you found out you had achieved a time of 10.6 seconds in the 100m?
When I finished the race I felt good and relaxed, so was eager to ask my time – which they told me I had to wait for. When I eventually found out the time I was excited and rushed to tell Mr Williams (Head of Biology and in charge of Athletics) although I knew it was all good getting one sub 11 race it had to become consistent.
Tell us about your training regime – how do you prepare for meets?
Within school, instead of training with the sprint group I have been introduced to a strength and conditioning programme designed to help me get quicker, which so far has been beneficial. Outside of school I train at Shaftesbury Barnet Harriers in a sprint group coached by Ty Holden. The training in winter consists of lots of repetitions (reps), for example 6 x 200m trying to get us robust and fit for the outdoor season. During summer the training begins to become a bit shorter, for example more 60s, 80s and 120s with the occasional 150 or 200 in an attempt to get our speed up. Preparing for meets is nothing different in training but out of training a good dinner and breakfast sets you up nicely.
What running do you have coming up this term and summer?
Later this term I have Hertfordshire Schools where I trial to get into English schools in July, and later on in the summer I have Nationals and South of England's, along with other less important meets. My aims for the season are to hopefully improve my time further and clock an official electronic sub 11, and consistently be running those kind of times as well as improving my 200m and 400m times.
Do you think you would like to run professionally perhaps in the future?
I have always enjoyed watching the great sprinters at the Olympics and various other competitions, although running professionally is something that has never appealed to me due to the complete devotion to the sport and low pay. For now I am just trying to enjoy it and stay fit.