Pupil trains with London Welsh Rugby Club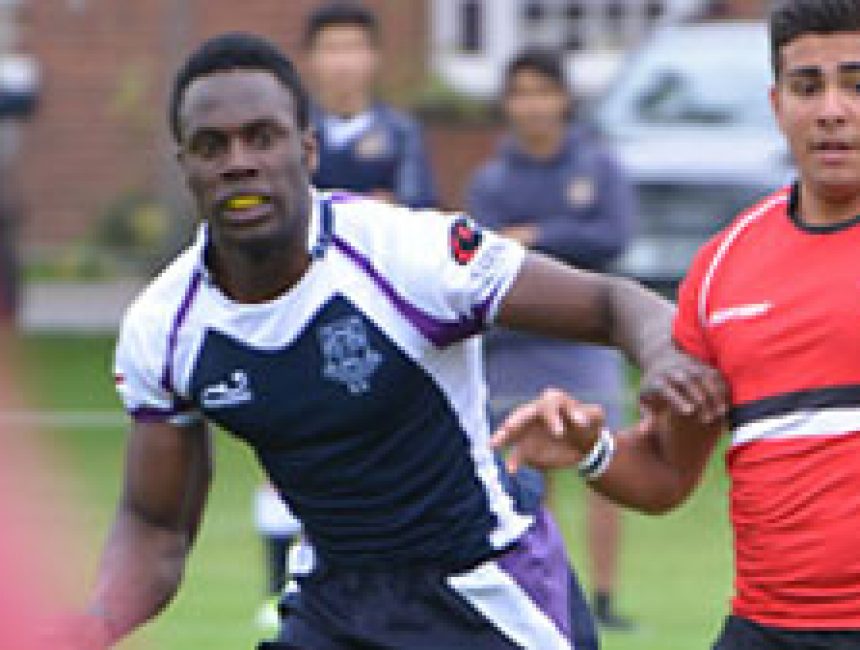 Head Boy and First XV player Okemdi Chukwu (Th,U6) aspires to continue playing rugby at a high level after he leaves school. Haileybury's Director of Rugby, former Wales and British & Irish Lions captain Michael Owen, helped Okemdi come a step closer to his ambition when he enabled him to train with Championship club London Welsh in December. Okemdi reflects on his experience:
When did you start playing rugby?
When I was 10 at Edge Grove Prep School. It taught me the basic skills and how to pass – that you had to pass the ball backwards and things like that.
How did your training with London Welsh come about?
I asked Mr Owen about a rugby club I might be able to join after university. He has links at London Welsh and asked the coach if I could go and train with them, and then if I did well then we would keep in contact. It worked out really well.
It was brilliant, I loved it. I was there for three days and it was great. I had some gym sessions, team run-throughs and video analysis. Before everyone introduced themselves I was a little intimidated because the guys there are absolutely huge. Sometimes people don't get to do what they love as a job and you could tell that everyone there loved it and were so enthusiastic about being there. I was getting so much advice from people who have played internationally. Anything I could get from them was great.
How do you think being at Haileybury helped?
Being at Haileybury has helped me to get to know people and meet new people, especially being in the position I'm in as Head Boy. After I introduced myself to everyone at the club and got over the nerves, everyone was so friendly.
Does being coached by Mr Owen help?
Definitely it helped me a lot, the way he coaches and his coaching style is very similar to the way the London Welsh coaches worked, so it fitted perfectly. Also the level of intensity that Mr Owen uses in his sessions meant I was able to keep up with all the lads.
What next?
I'm definitely going to keep in contact with everyone and hopefully try and train with them over the summer holidays. Depending on what university I go to, then I can join their preseason training. Now that I've had this experience I would consider a rugby career, a lot more now than before. I just love the sport.