Outstanding Haileybury pupils beat worldwide average for IB Diploma results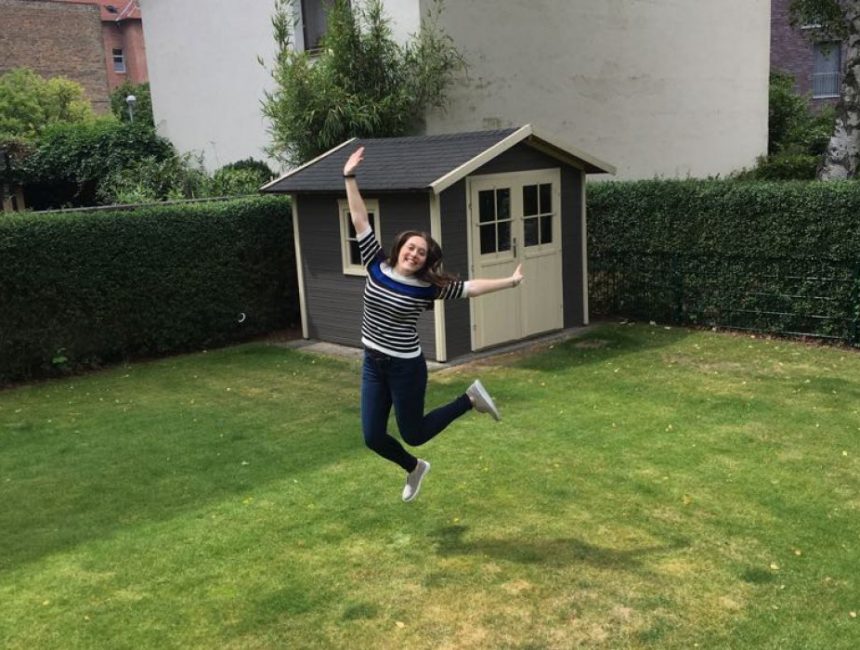 Sixth Form pupils at Haileybury are celebrating after one of the most successful International Baccalaureate Diploma Programme (IBDP) results days in the School's history.
The average points score for pupils was 36 points out of a possible 45, well above the worldwide average of 29 points and maintaining the exceptionally high standards set in recent years. The School is also celebrating the fact that 67% of pupils scored 34 points or above, which is the equivalent of securing ABB or better at A Level. Again, this is one of the highest figures in the School's history.
Particularly impressive results came from pupil Teresa Muelle Sanchez de la Blanca, who scored an exceptional 44 points out of a possible 45, which is equivalent to 5 A* grades at A Level; just under 1% of pupils worldwide achieve this result.
Teresa is now going on to study Law at Bristol University. She said: "After a morning of nerves it was a huge relief to see these results! I've thoroughly enjoyed doing the IBDP and am extremely grateful to all of my teachers for their support. I'm very happy and can't wait to start at Bristol in the Autumn."
Other outstanding results were achieved by Grace Xu, Philine Lichtenberg and Emily Jacobs who all scored 43 points; Ksenia Panteleeva who scored 42 points; Constancia Deriziotis, Sofya Panchenko, Kenisha Paliwal, Marie Obrowski, Terence Ho and Costanza Boncompagni Ludovisi all scored 41 points. These results are equivalent to achieving five A grades or better at A Level, and all of these pupils are placed in the top 2% of pupils worldwide.  That one in every five pupils at Haileybury enjoyed such outstanding success is a real testament to the ambition, intellectual curiosity and independence of the pupils.
In addition, Haileybury celebrated the fact that 10% of its candidates were awarded a prestigious Bilingual Diploma.
As well as celebrating their examination success, pupils are celebrating gaining entry into university, or institutions of further study. This year, boys and girls are leaving Haileybury to study at Imperial College London, Durham, Bristol, Cornell University in the US, Duke University in Singapore, Vita-Salute San Raffaele University and Università Bocconi in Italy to name but a few.
Kenisha Paliwal, who is one of Haileybury's Heads of School, achieved 41 points and said: "I am absolutely thrilled with my results and so pleased that my score reflects the time and effort I have put into the IB! I am so excited to be studying Industrial and Labour Relations at Cornell University in the US next year, and am very happy that my score has put me in a great position for my future academic endeavours too. I am very grateful to everyone who has helped me along the way!"
Marie Obrowski also scored 41 points and will study Mechanical Engineering at Imperial College London. She said: "Receiving 41 points seemed impossible to me, especially with subjects like Maths and Physics. I am over the moon and simply cannot thank my teachers enough for enabling me to achieve this result in order to attend my dream university in the future."
The IBDP is a prestigious and rigorous internationally regarded qualification, which offers pupils the opportunity to study six subjects, three to Higher Level and three to Standard Level. In conjunction with this, pupils must also complete a core programme, which involves completing an independent essay, a critical thinking component, and completing a sustained programme of creativity, service and activity. This year, 29% of Haileybury pupils secured the maximum number of points available for this programme and 76% of pupils secured two points or more, demonstrating learning and ability beyond the classroom.  As a holistic, connected qualification, the IBDP is a challenging programme to undertake but one that prepares pupils to be global leaders.
Martin Collier, Haileybury's Master, said: "We are delighted with this strong set of IB Diploma results. The pupils worked hard and they deserve their success. They were supported throughout the two-year programme of study by a dedicated and committed teaching staff. We congratulate our IB Diploma class of 2018 and wish them the very best for the future."