OH and Recipient of Conspicuous Gallantry Cross Returns to Haileybury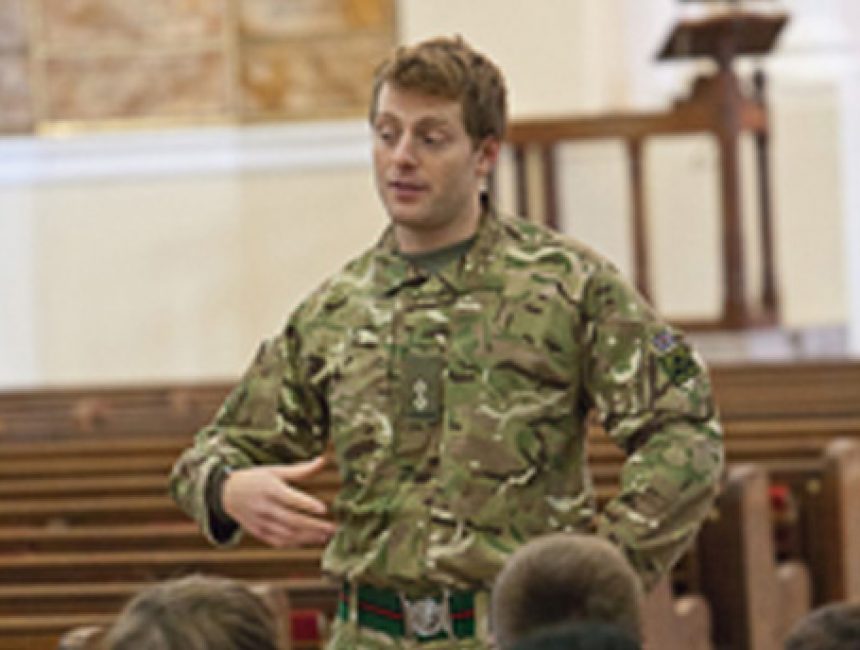 One of the best things about Haileybury is that once you have joined the school community you will – it is hoped – feel part of that community for the rest of your life. This is true not only of pupils moving through the school, but also staff, parents and of course our Old Haileyburians.
OH Luke Mason CGC returned to the College last week to speak to current pupils about his experiences in the Army. He spoke of his three 'families' – his actual family, his Haileybury family and his military family. After being injured in Afghanistan he was moved back to the UK for treatment – two of his first visitors were friends from Edmonstone.
Lieutenant Mason was awarded the Conspicuous Gallantry Cross in 2012 for "conspicuous gallantry and steadfast leadership". The citation for his award tells of an extraordinary display of courage under fire while attempting to secure the well-being of his men and the completion of a mission in Afghanistan. Despite being hit by machine gun fire and grenade shrapnel his actions ensured a helicopter medical evacuation was possible. The CGC is second only to the Victoria Cross.
Luke was in Edmonstone 2000-05. He was a College Prefect and studied Geography, Politics and Design Technology at A Level, going on to Newcastle University to read Geography and Politics. Having passed the Army Officer Selection Board while in the Fifths he became an Army Scholar in the Sixth Form and went on to the Royal Military Academy at Sandhurst in 2009. He was commissioned into the Yorkshire Regiment in 2010.
Speaking first to Main School pupils in Big School, then addresing Lower School in Chapel, Haileybury was honoured to welcome the return of another Old Haileyburian to our community.