Netball match marks teacher's return after cancer treatment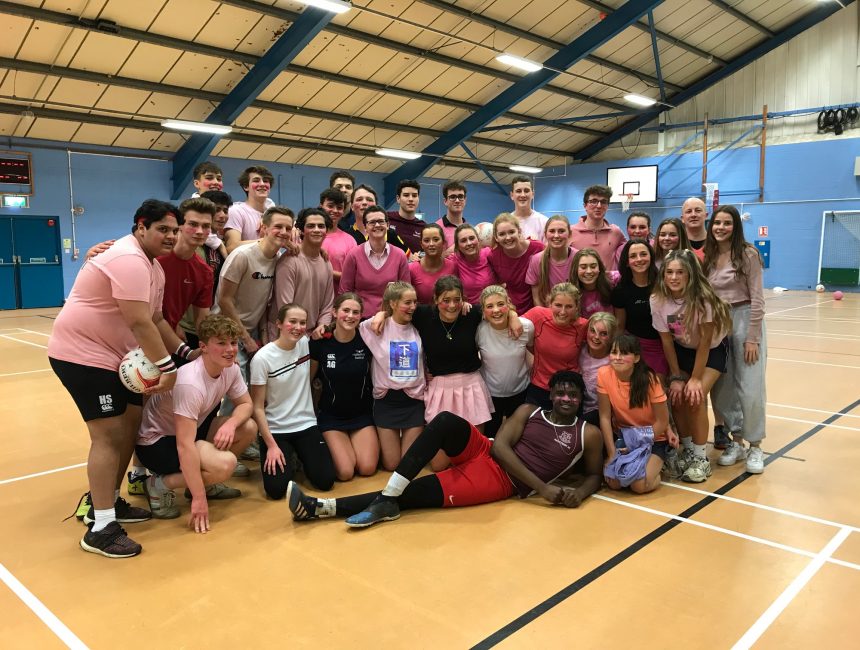 Pupils organised a very special netball match at school to show their support for an inspirational teacher who has returned to work following treatment for breast cancer.
Spearheaded by Head of School Imogen, the charity match involved 35 Sixth Form pupils dressed in pink. They joined Haileybury in the Lower School under the stewardship of Dr Pugsley.
"She is the most amazing teacher because of her passion and drive but also the amount of care and kindness she has for those she teaches." Imogen said. "She had the most significant influence on the start of all our Haileybury careers, and we are all so thankful for the way she has helped us to enjoy our time here."
Pupils, who wanted to keep it a low-key event, did a collection in houses and they raised well over £400 which has been donated to Breast Cancer Research.
"It was great because it brought together all those who started in Lower School [in 2013/14] and was magical in the sense that everyone laughed all the time and there were so many smiles," Imogen said.
"I wrote a hand-written letter [to Dr Pugsley] and she was very touched and so supportive of the idea of raising money for Breast Cancer Research. She wrote us the most touching email of thanks afterwards."
Dr Pugsley (pictured centre), who was Head of Lower School from 2010, has recently been appointed to the role of Deputy Head (Safeguarding and Wellbeing).
"I have always followed their progress and have enjoyed seeing their incredible successes," she said. "I am delighted that as Deputy Head, I can play an even greater role in their – and all Haileyburians' – lives throughout their time in the school.
"That a group of pupils chose to organise a charity fixture because of the impact that breast cancer has had on me over the past year is incredibly touching and testament to the true spirit of service and kindness for which Haileybury stands. Thank you to Immy and all involved."