Maths masterclass day plus partner school adds up to improved aspirations
The partnership between Haileybury and Haileybury Turnford strengthened with a day of maths masterclasses for pupils from both schools.
They enjoyed a series of sessions including one which posed the question: 'What is success?' and others which explored the academic importance of economics.
Teachers from both schools delivered talks before the day was rounded off by Patrick McCrae (pictured below), co-founder and CEO of art company Artiq, who encouraged the Lower School and Year 7 pupils to aim high.
"We needed to improve the attainment and aspirations of the high-achieving pupils," said Jon Datta, Haileybury Turnford's Director of School Improvement. "We thought the best way of doing that is to start in Year 7.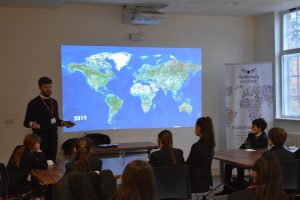 "That way we can build up a culture of aspiration from the very beginning, exposing them to extracurricular activities.
"They gain a much broader understanding of the world and ultimately we believe this will help them to achieve highly, not just at school but beyond."
The aim is to have at least two such events each term with older pupils eventually acting as mentors for younger year groups.
There are also plans to introduce GCSEs such as Astronomy and Latin – both taught at Haileybury – which could be integrated into the Haileybury Turnford curriculum.
Haileybury has been supporting Haileybury Turnford since 2015. It does this by providing sponsorship, teaching support, university workshops, interview coaching, co-curricular opportunities, and work experience.