Making waves! Praise for pupils' STEAM projects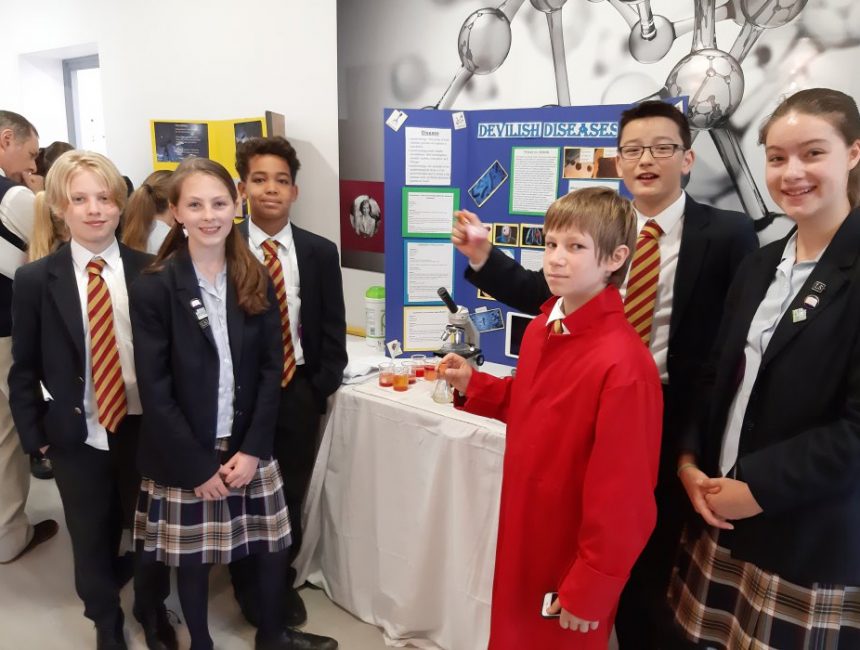 Tsunamis, devilish diseases and 'how to survive a nuclear winter' were among special exhibitions created and presented by pupils.
The Lower School used STEAM Week (science, technology, engineering, art and maths) to work in teams and develop their knowledge of some exciting subject areas.
Displays, which included hand-made models used for experiments, were then judged on criteria such as creativity and initiative.
"They're absolutely amazing," said Mr Kattavenos, who is head of science. "They've astonished me with the quality of work that they've come up with.
"They were given some instructions, but it was up to them to take it beyond those instructions – that's what they've done, and they've done a fantastic job."
Twelve exhibitions, put together by LS1 (Year 7), were displayed on stalls throughout the physics corridor in the science department.
The 'Devilish diseases' team (pictured) – who used detailed experiments to investigate levels of bacteria in a number of different substrates – were the overall winners.
Onno worked in one of the other teams, who explored tsunamis and how best to minimise the devastation they can cause.
"A tsunami has the power equivalent to 10 nuclear bombs," he said. "The way you want to take one out, is by taking away that energy."
His team built a miniature barrier from wood and modelling clay, placing it in a box and demonstrating its effectiveness by tipping water towards it.
"It's to break up the wave," Onno said. "It slows down the wave and therefore takes away its energy.
"We all had our separate jobs and therefore we could all take part, in different things, efficiently."