Live music at Haileybury - the best alternative to football fever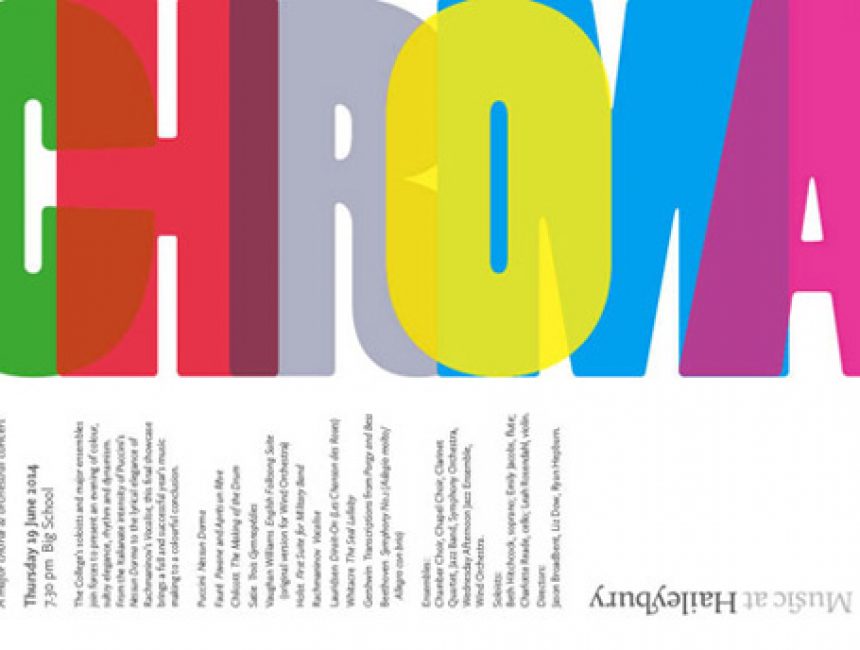 There are musical performances of every type to enjoy over the last days of this Summer Term. Come and enjoy a real alternative to football fever at one of the concerts our talented Haileybury musicians have been busy rehearsing for during these busy final weeks.
All these events are free to attend – please reserve your place by contacting the Box Office 01992 706355, or take a chance at this late notice and turn up at the door.
Wednesday 18 June, Chapel, 7.30 pm
Alexander Anderson, former Director of Music here, gives Part Four of the complete Cesar Franck organ recital series.
Thursday 19 June, Big School, 7.30 pm
Major Summer Concert: Chroma including the big ensembles and soloists (Beth Hitchcock, Charlotte Reade, Leah Rosendahl and Emily Jacobs). This lovely evening will include plenty of fantastic, summery music to get you in the mood for the end of term. Drinks will be served during the interval and the concert will conclude at approximately 9.30 pm.
Friday 20 June, Great Amwell Pool, 9 pm
Madrigals in an idyllic setting with lovely music wafting across the pond.
Sunday 22 June, Chapel, 7.30 pm
Part five of the complete Cesar Franck organ recital series, with a performance given by Derek Longman.