Landscape artist Sarah Easter Collins inspires pupils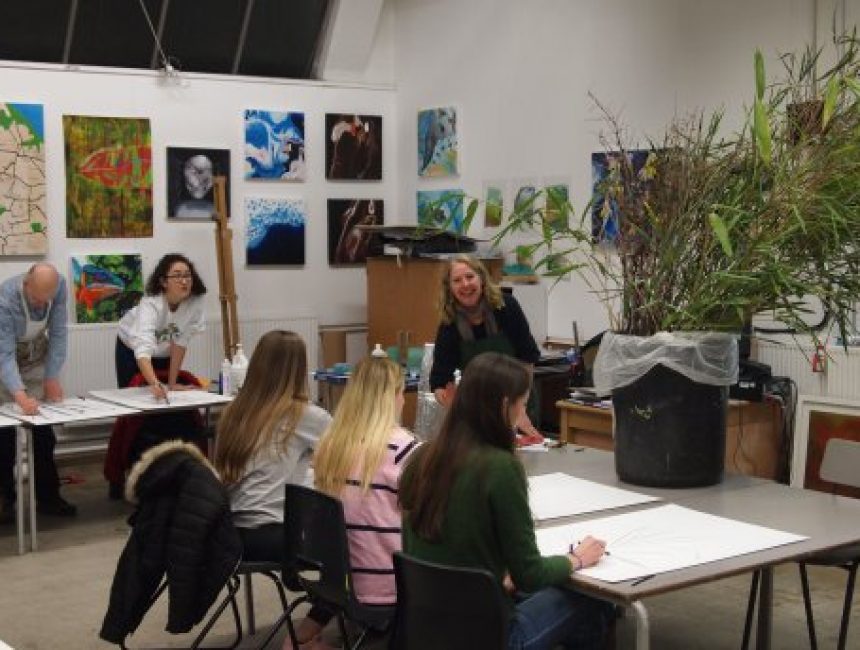 Renowned artist Sarah Easter Collins delivered a fascinating talk and workshop to the Haileybury Art Society on Friday 3 March.
Sarah, who is a practicing artist based in Exmoor, explores landscape through memory and a sense of place by applying process and media.
Sarah spoke about her work and explained how she manages to create such rich deep colours by building up layer upon layer of pigment and washes of ink and acrylic paint. She washes off and scrapes back through the surface of her work to reveal the layers of paint and pigment, creating an intensely worked yet subtle final image. We were able to see this process on a number of works that Sarah had brought along with her.
Sarah then ran a workshop with the pupils, encouraging them to explore 'rhythm' and 'mark-making' by getting them to draw large expressive charcoal images of reeds, bamboo and dried hogweed which she had collected from home.
They then produced a second large image, using wet media, by layering pools of ink and watered down acrylic paint. The challenge here was to work with the media, understanding that you would not be in total control of the outcome but could influence the direction of the work under Sarah's guidance.
It was an outstanding evening which saw over twenty of the Fifth and Sixth Form artists enjoying a highly informative and eye-opening approach to their subject.
Sarah's work can be found on her website at www.saraheastercollins.com
Mr Nick Gorman, Head of Art