Hertfordshire Rugby Sevens Champions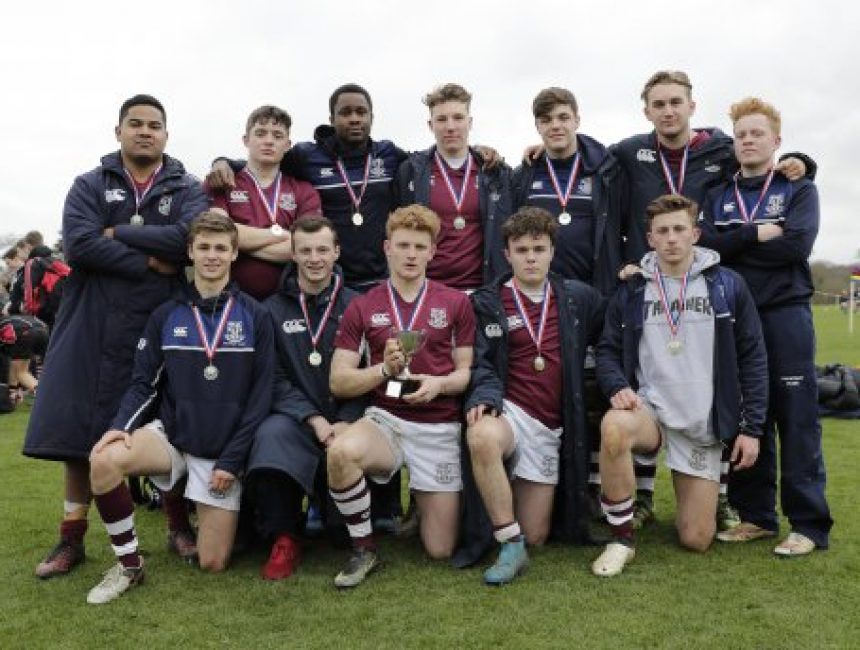 Haileybury won the Hertfordshire County Sevens on Wednesday 1 March, which was the first time any school has done the double of Hertfordshire XV and Sevens competitions in the same season at an U18 level, writes Haileybury's Director of Rugby Michael Owen.
After overcoming Bishops' Stortford High School, St Albans and Queen Elizabeth's School Barnet in the group stages, Haileybury met a determined Oaklands College, who had suffered a shock loss to St Columba's College in the semi-final.
Oaklands had proved to be Haileybury's nemesis in recent years. Haileybury avenged their Cup final defeat of 2016 with a hard fought 21-19 victory. The points were scored by Haileybury's three star players – Iwan Dawes, Ollie Heazel and Spencer Owen, with Dawes adding the crucial three conversions which sealed the win. Following a runners-up place at Seaford College we are shaping up well as we head to the Surrey and Rosslyn Park Sevens.
In the final against the shock team of the day, St Columba's, the men from St Albans played really well and were very determined but ultimately ran out of steam with Haileybury finishing strongly to run out 36-12 winners. It was 12-7 at half time after scores from Spencer Owen and Jamie Hoyes, who scored following a superb sidestep.
The next score was crucial and captain fantastic Spencer Owen scored a superb individual try with a chip ahead and football style dribble to the line to take the game away from St Columba's. With Charlie Harrington superb and showing how important kick offs can be in the shortened form of the game, Haileybury got several quick scores. The man of the tournament Iwan Dawes scored a couple of fine tries to finish with a 16 point haul in the final.
This was a superb day and credit must go to Johnny Morgan of Tring for running an excellent tournament.