Haileybury Youth Trust: Cisco's building blocks for a better future
Cisco's come a long way. Four years ago, he fled from his home in South Sudan and arrived in Africa's largest refugee settlement, Bidi Bidi, where he has trained to become a builder.
After being registered as a refugee at the Ugandan border, Cisco and his aunt were taken to the sprawling settlement for 230,000 South Sudanese refugees, where they were given blankets and mats for sleeping and tarpaulins, food rations and a 30m x 30m plot, on which to build a home.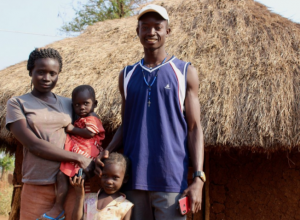 It took Cisco and his aunt five days to get to the Ugandan border from their home. Just two days after they departed, government soldiers arrived. Cisco was not able to work in the nearest town as it was considered too dangerous.
Uganda's progressive policy has meant that its 1.3 million refugees, mainly from South Sudan and the Democratic Republic of Congo, can stay, settle and work – and many do, preferring the peace and stability of Uganda to the volatility of where they have travelled from.
There is still a monthly food distribution as very few refugees have sufficient land – or the means – to grow their own crops. Some of this food aid is sold to buy seeds, cooking oil or clothes from roadside market stalls.
Cisco helped distribute the food to other refugees once a month. He received 10,000 shillings (£2) and, sometimes, a bar of soap.
Despite the positive steps, there have been some enormous challenges for settlements such as Bidi Bidi. Infrastructure had to be developed rapidly in what was empty bush only a few years before refugees arrived. Water had to be located, sanitised and distributed. Homes, roads, health centres and schools all had to be built.
This has taken its toll on the fragile Ugandan landscape with huge numbers of trees cut down for cooking but also to fuel the kilns that make bricks for building. The environmental damage caused by cooking and making fired bricks has been significant.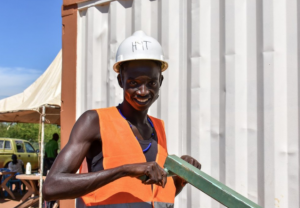 But that has begun to change since the Haileybury Youth Trust launched an environmentally-friendly construction and training programme this time last year. Cisco has played a starring role. In what what his first proper job, Cisco helped construct two innovation centres and four trading kiosks.
The buildings have been constructed from an innovative building material: the Interlocking Stabilised Soil Block [ISSB] which is an environmentally-friendly alternative to the fired brick. The ISSB is a compressed earth block made from mixing soil with a small amount of cement and sand.
Cisco is now a skilled mason and he hopes to become a project manager one day.
Stay up to date with the work of HYT on Facebook, Twitter and Instagram