Haileybury pupil wins top tech competition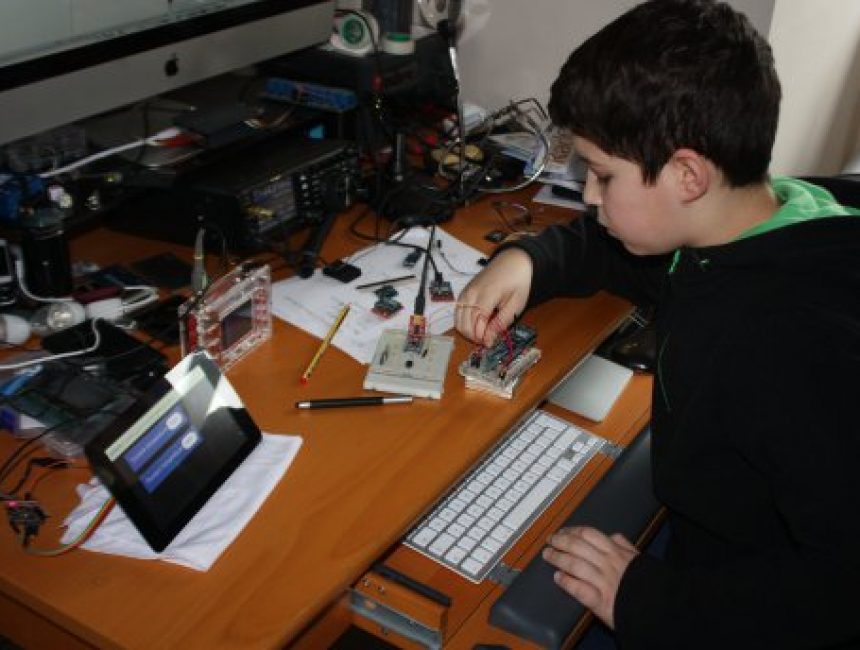 Congratulations to computer whizzes from our Coding Club who have achieved success in a national computing competition.
Two teams of pupils from the club entered PA Consulting's national Raspberry Pi competition, which attracted entries from around 150 schools.
Lower School 2 pupil Max Amos (pictured) beat off tough competition to win one of the three categories with his invention.
The competition's theme was 'Innovations that will improve the lives of people who have conditions that limit their ability to do the things some of us take for granted'.
The first Haileybury entry was created by Middles' computer scientists George Koukoulis, Max Hodges and Henry Smith. Their invention, based around a Raspberry Pi (a credit-card sized computer that plugs into TVs and keyboards), targeted those suffering from dementia. It used facial recognition software to give the patient prompts, using software driven by a Raspberry Pi computer and was called the 'Magic Mirror'.
The second Haileybury entry was submitted by Max. He created the MxStation, a monitoring tool for carers of older people which addressed the risks of unattended falls. The MxStation involved a Zigbee radio link, an Arduino pendant, a Raspberry Pi and a touch interface to activate and reset the system.
Max was selected to go through to the final, which took place in London on Thursday 27 April.
Max was one of nine finalists who had the opportunity to showcase their inventions to a panel of judges, including IT leads from the Bank of England, John Lewis and Land Rover BAR.
Max impressed the judges so much that he won the Year 7 to Year 11 category – a fantastic achievement.
He has won some electronic kit to help further his interest in the subject area, and the College will receive some funds to help support the ICT and Computing Department.
To stay up to date with Haileybury's ICT and Computing news and for more photos of Max winning his prize and our Raspberry Pi entries, please see the department's Twitter page.