Haileybury presents 'perfect Broadway musical' The Drowsy Chaperone at Hertford Theatre
Pupils, staff and parents are eagerly anticipating this term's drama spectacular which will be performed at the 400-seater Hertford Theatre.
The Drowsy Chaperone begins with a man in a chair who puts on his favourite record – a cast recording from a made-up 1920s musical – which comes to life.
"It promises to be an incredibly uplifting and entertaining performance," said Jacob Thomas, Haileybury's Director of Drama. "It's a really funny piece full of hilarious characters and catchy tunes – feel-good theatre at its best.
"There are funny acting sequences, great dance sequences and brilliant songs. It is a clever and highly entertaining show, and also delightfully short-running at a little over 90 mins."
The show parodies the golden age of Hollywood and musical theatre, with references to Cole Porter, George Gershwin, Buzby Berkely, Gene Kelly, Fred Astaire and Ginger Rogers.
The musical hit the West End in 2007, featuring Elaine Paige, John Partridge and Summer Strallen and received a string of 2008 Olivier Award nominations.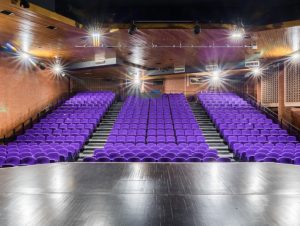 On Broadway, there were 674 performances of The Drowsy Chaperone between 2006 and 2007. New York Magazine called it "the perfect Broadway musical."
The Haileybury production at Hertford Theatre (pictured above) runs from Wednesday 5 February (7.30 pm) through Thursday 6 February (2 pm and 7.30 pm) until Friday 7 February (7.30 pm).
Tickets are purchased on a 'pay what you can' basis which means the event can be booked for nothing and a contribution is made on the night.
"We hope this makes the show accessible to all," Jacob said. "It removes cost barriers which can sometimes be prohibitive, especially in the West End. Most of all, it's fun. Come and enjoy it!"