Haileybury hosts Spanish Debating Challenge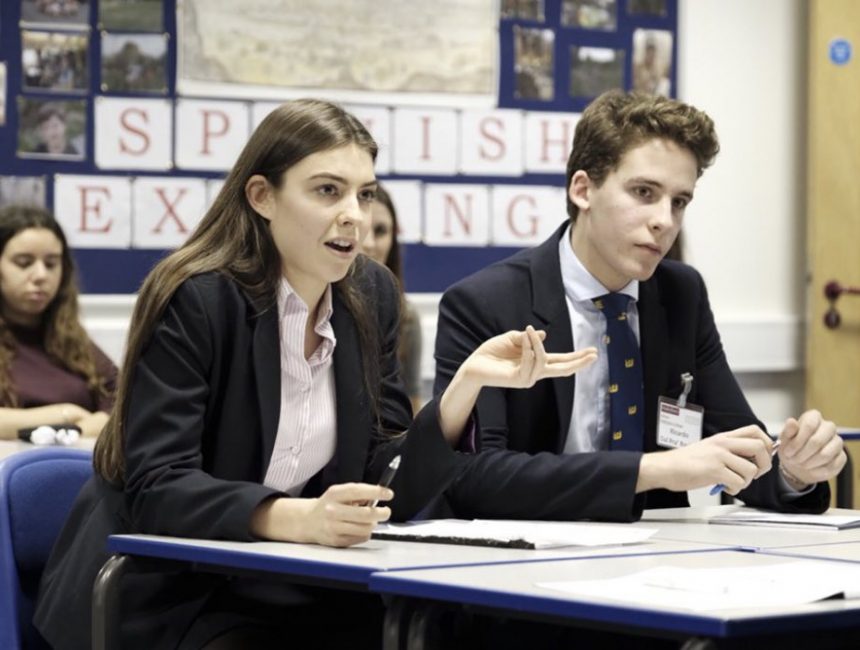 Pupils from eleven schools came together at Haileybury yesterday to take part in the North and Central Inter School Spanish Debating Competition.
Held in our Modern Languages Centre, we were delighted to have two representatives from the Embassy of Spain in London attend.
Spanish Education Counsellor Dr Gonzalo Capellán de Miguel and Language Adviser Jesus Manuel Hernández helped to oversee and judge the debates, which were of a very high standard.
The eliminatory rounds saw pupils debating the motions:
'

Cataluña

 can never be successful at independence'

'Throughout history, religion has done more harm than good'

'Immigration is too easy nowadays'.
The semi-final saw Haileybury versus Westminster School and Eton versus Bancroft's School debating whether 'The death penalty should be reinstated in Spain.'
After some deliberation by the judges, it was announced that Eton had come in fourth place, and the Haileybury team (Upper Sixth pupils Zara E and Hugo G-B and Lower Sixth pupils Luis S and Ricardo DPR) in third. 
It was then time for a tense final between Westminster School and Bancroft's School, with the motion of 'Weapons should be legalised to protect ourselves as individuals.'
After some excellent debate the team from Westminster School was declared the overall winners with Bancroft's School runners-up.
The Embassy of Spain very kindly contributed prizes for the winners, which included educational materials, t-shirts, USB sticks and pens.
Haileybury's Head of Spanish, Miss Suzie McCavana, said: "It was an excellent opportunity for pupils to come together and debate very current topics in the world today, and it is even more impressive that it is in their second language! Not only does the competition promote Spanish and languages in general but it builds relationships with other schools, their pupils and staff, and the Spanish Embassy.
"This form of healthy competition also targets pupils who love that extra challenge. It is also an excellent confidence boost for those taking oral exams soon and who wish to improve how they articulate in front of an audience."
"Bien hecho" to everyone who took part.