Haileyburian returns First World War flag to Turkey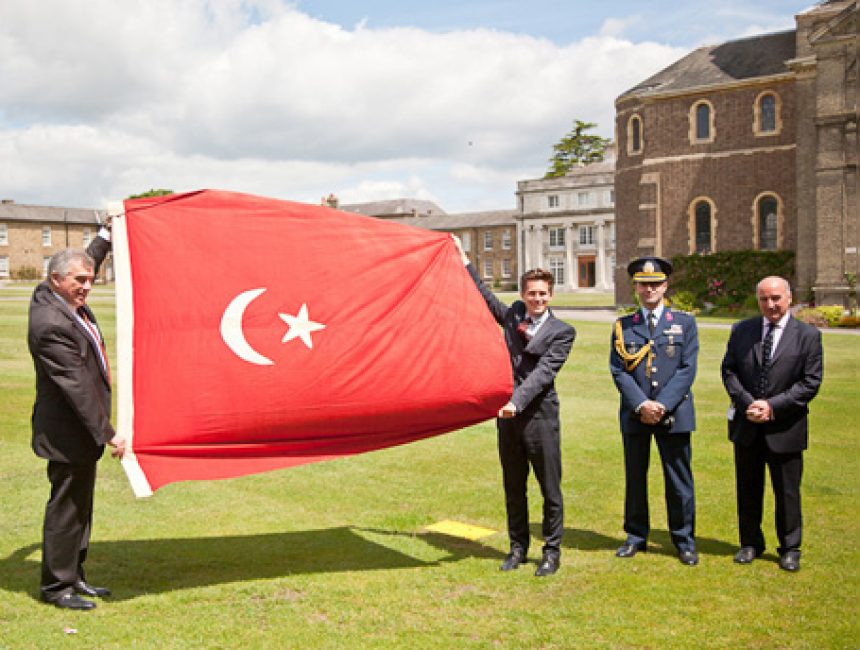 The great-grandson of one of General Edmund Allenby's staff sergeants, now attending Haileybury – Allenby's former school – has formally returned a historic flag captured at Damascus during the First World War, to Turkey through its ambassador to the UK, Ünal Çeviköz.
At a ceremony held at Haileybury on Wednesday, Sixth Former Jack Turner handed over the flag which had been in his family for four generations. The flag was taken from the headquarters of the Ottoman Empire during the capture of Damascus in October 1918 by General Edmund Allenby, one of our most prestigious OHs. As a sign of their friendship, General Allenby made a gift of the flag to his Staff Sergeant Edgar Turner, Jack's great-grandfather, and the flag has been handed down through the family ever since.
Jack made the decision with his father Matthew Turner to use the College's connection to Allenby to co-ordinate the return of the flag. In his last formal act of his four-year term as ambassador to the UK, Ünal Çeviköz accepted the flag on behalf of Turkey.
At the ceremony, Ambassador Ünal Çeviköz said: "For the last 100 years Turkey has paid tribute to the British soldiers fallen in Turkey by respecting their memory and by recognizing them as our sons. Today, I have witnessed once again the British people keeping similar commitments by paying the utmost respect to the national symbols of other countries.
"The Turner family kept the flag for almost a century and today, I am accepting it back on behalf of the Turkish nation. Please allow me to express our gratitude for keeping our national symbol for such a long time with great care."
Joe Davies, Master of Haileybury, said: "As a result of Haileybury's connection to both Viscount Allenby and the Turner family we are grateful to have been able to arrange this ceremony and the return of this historic artefact. Haileybury, like many schools at the time was massively affected by the war, with nearly 3,000 Old Haileyburians fighting in the conflict. Through these acts of commemoration and friendship we are able to both honour the sacrifice of the past and forge closer ties for the future."
The Ambassador gave permission for the flag to be kept at Haileybury for the next several months so that it may be used in our centenary commemorations this year. The flag will then return to Turkey.