GCSE joy as Haileybury pupils achieve best ever results and record A*s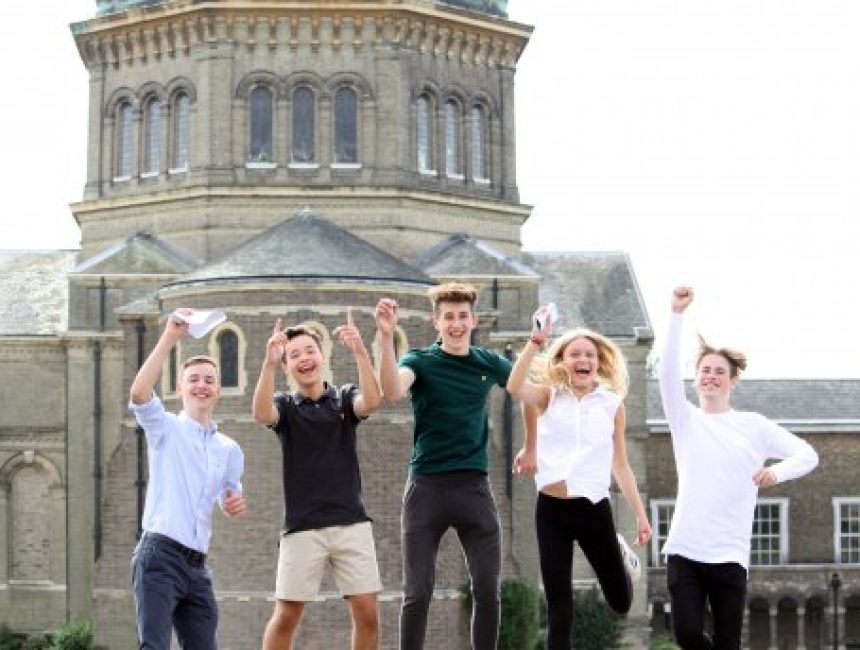 There was plenty to celebrate at Haileybury this morning as pupils racked up record-breaking GCSE and International GCSE (IGCSE) results.
Pupils achieved the school's best ever set of grades and several new records were set, including the highest percentage of A* or A grades (66.3%).
Pupils also raised the bar for the number of A* grades, with a new record of 449 A*s overall.
Nine pupils scored straight A* grades and 38 achieved all As and A*s – almost a third of the year group.
For the second year running, a top set of Year 10 pupils sat their Maths IGCSE a year early and all obtained A*s.
Teresa Muelle Sanchez De La Blanca got 11 A*s. She said: "I feel relieved and proud of my results, as well as very grateful for the support I received from my teachers. Next year, I'm looking forward to starting the  IB course, and I'm excited to be pursuing the subjects I enjoy in more depth."
Hugh Reid achieved nine A*s and one A, and will now study Philosophy, Chemistry, Maths and Music A Levels. He is also a Music Scholar at Haileybury and plays the violin, organ and piano. He said: "I feel fantastic. Just like the Olympians have been saying, it really does feel like a dream come true! I was a bit worried about Latin and couldn't believe it when I saw that it was an A*. Thank you to all of the teachers for their help."
Josie Tyers also achieved nine A*s and one A. She said: "I was very surprised; I wasn't expecting A*s in my subjects! I feel really happy." Josie will now study History, English, Psychology and Biology A Levels and is considering reading History at university in the future.
Master, Joe Davies said: "I would like to congratulate our pupils for achieving some truly remarkable grades. They have worked their socks off and achieved the best ever set of GCSE results in our school's history. We are extremely proud."
Deputy Head (Academic) Simon Smith said: "Well done to everyone. It is great to see such excellent grades across all of the departments and subjects. These best ever results are of course testament to our pupil's hard work and talent, but thank you also to our staff, parents and families for their support and encouragement."
Along with many other schools, Haileybury offers both GCSEs and IGCSEs. IGCSEs are the international version of GCSEs – they are independent of Government changes and seen by many as more rigorous.
Pictured above (from left to right): Hugh Reid, Eliot Barrett-Holman, Philip Wistow, Josie Tyers, Matthew Igolen-Robinson.