From MUN to meetings at Number 10: A former pupil's journey
An Old Haileyburian who went from Model United Nations to parliamentary assistant for the chancellor says the conference has given him skills for life.
The 25th Haileybury MUN kicks off on Friday March 2o with more than 800 pupils assuming the roles of delegates representing countries tasked with solving global issues.
Something Andreas Payne revelled in during his time at the school which culminated in his appointment to Secretary General in 2012.
"I have lots of great memories of MUN," said the 26-year-old who is now a local councillor for Hoddesdon Town and Rye Park. "I always enjoyed public speaking but you get to meet new people from all around the world.
"It's very well organised, the committee are very well resourced and trained but I think the main thing is that pupils fall in love with Haileybury and the campus.
"They love the grand environment – it's geographically well-connected to London and it's the best food on the circuit too."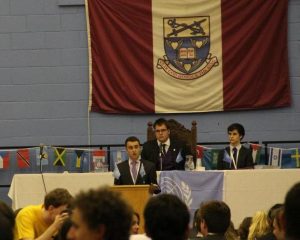 With a theme of A World for the Future, the pupil-led conference will feature schools from Turkey, the Netherlands, Greece and the US.
An Anniversary Secretariat Meal is due to take place in the summer and there's even an app for delegates.
MP Charles Walker will address delegates on the opening day before lobbying and debate on Saturday ahead of plenary sessions and a closing ceremony on the Sunday.
Andreas, who has supported the running of the event since leaving school, said: "It's about teamwork and leadership.
"But when you are communicating on walkie-talkies you have to make quick decisions under pressure. That's something which really can't be taught – you have to do it.
"Twenty five years of the Haileybury MUN is brilliant and it's now the most prestigious school conference in the country."
Andreas left Haileybury in 2012 and studied Politics and International Relations at the University of Kent before going on to work alongside Philip Hammond who he's still in touch with.
He has also set up his own company which provides MUN services to schools and colleges across the world.
Click here for a look at last year's conference.