Dr Achleitner's lecture was an unmissable Haileybury event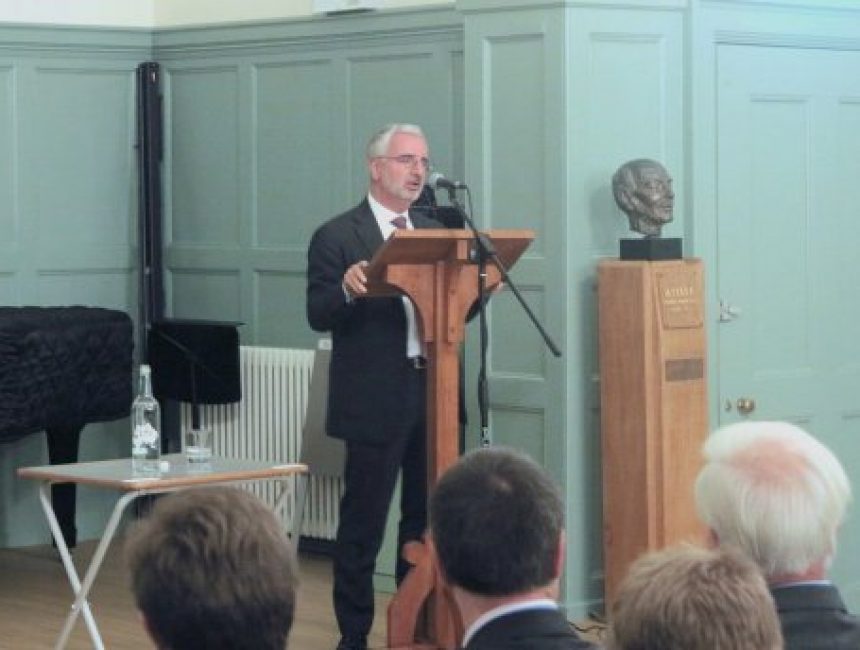 The Haileybury community had the pleasure of hosting Dr Paul Achleitner, the Chairman of the Supervisory Board of Deutsche Bank, for a talk on 'The competitiveness of Europe' recently, writes Upper Sixth pupil Virginia De Benedetti.  
Dr Achleitner's lecture addressed the political and economic situation of Europe, and of the 21st century world, and on what we can do as individuals to prepare ourselves to succeed in such a competitive and unpredictable environment.
As Dr Achleitner explained, the world we live in today is one of the most beneficial periods in history, with access to great prosperity, freedom and equal rights. However, these are things that we may not take for granted, as the unexpected 'black swan' can occur more times than we can imagine. Examples of this are the results of the United Kingdom's referendum on Brexit and the new American administration.
Dr Achleitner's lecture followed with his explaining that he believes the world is being driven by the forces of emotion and wishful thinking. To make meaningful decisions, he argues, we must link facts to emotions, and consider the greater picture.
The lecture, however, went beyond outlining Europe's current issues, by challenging the ways we can prepare ourselves to succeed in the world, where change will always be amongst us. He explained that we must, therefore, concentrate on ourselves, as we are the only ones who can make a difference to ourselves and to the people we care about. We must be aware of the permanent transparency of social media, and of the impact that it can have on our future careers and undertakings. We must be ready to listen and learn. It is important to keep our personal integrity, as one must be satisfied with themselves and their life to truly be able to overcome the difficulties in the world. Finally, we must be able to understand whether we are making a contribution to the world, and if we are not, we must force ourselves to become a unique individual with strong personal identity, in order to maximise our potential.
It is no exaggeration to say that Dr Achleitner's lecture was an unmissable Haileybury event, for it did not just outline the problems facing Europe and the entire world, but reached everyone in the room deeply, by telling them how to adapt and succeed for their future endeavours. It was a great honour to have such a prestigious figure present a lecture to the College, and will be an event not easily forgotten. 
Thank you to Abdul U-K for the photo.