Air
London Heathrow (50 minutes by car), London Stansted (30 minutes) and London Luton (40 minutes) are within easy reach of Haileybury. London Gatwick is 75 minutes away. All airports are served by rail links to central London.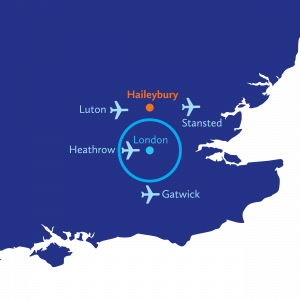 Rail
There are two main railway stations close to Haileybury. Hertford North to London (Moorgate or Kings Cross) is a 40-minute journey. Broxbourne to London (Liverpool Street) is 35 minutes. Hertford North is a 5-minute car ride from Haileybury and Broxbourne is 10 minutes away.
Road
Haileybury is conveniently located close to the A10 and easily accessible via the M25, A1(M), M11 and A414. The College is situated in the village of Hertford Heath and the postcode is SG13 7NU.
From the South East
Leave the M25 at junction 25 to join the A10 north (Cambridge), exiting the A10 at Hoddesdon.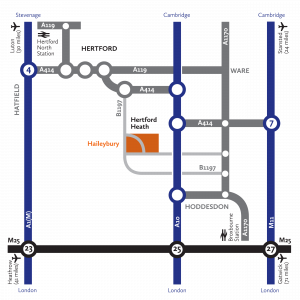 From the South West
Leave the M25 at junction 21a to join the A405, followed by the A414 to Hatfield and on to Hertford. The B1197 leads to Hertford Heath village.
From the North
Leave the A1(M) at junction 4 for the A414 to Hertford, or leave the M1 at junction 7 (St Albans) for the A414 to Hertford.
From the East
Via the M11 leave at junction 7 (Harlow) for the A414 to Hertford.
Printable map
To view and download a map of Haileybury and the directions, please click here.