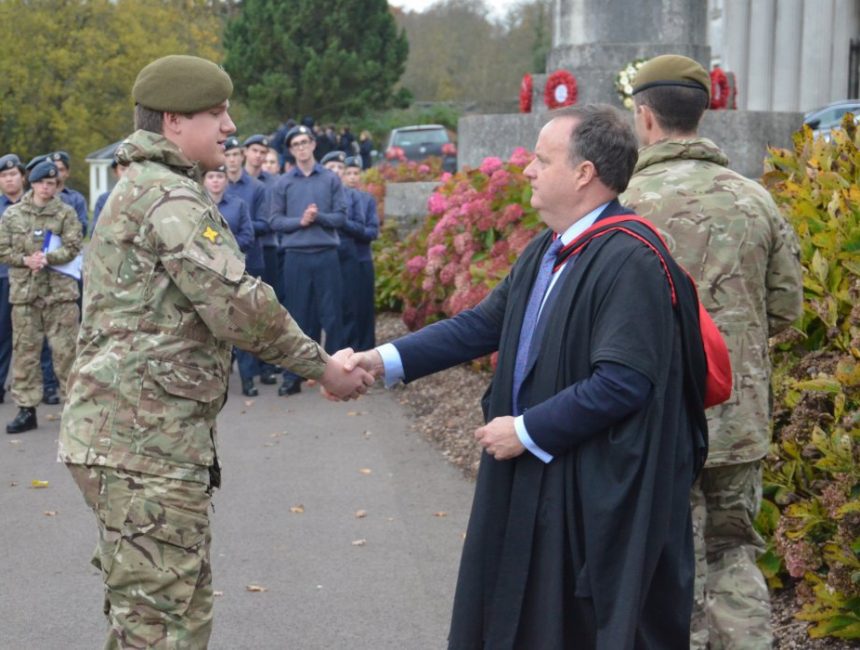 Congratulations to our Sixth Form CCF cadets who have been awarded promotions.
The Master, Mr Collier, attended the weekly CCF parade on 22 November (pictured) in his capacity as Head of the Contingent to carry out some of the promotions:
Oliver Priestley and William McKenna were promoted to Colour Sergeant

Sebastian Parry was promoted to Warrant Officer Class 2.
On 29 November, Patrick McGuckian was promoted to Flight Sergeant.
Members of the Army and RAF sections who chose to continue their involvement with the CCF in the Sixth Form were enrolled in a Leadership and Methods of Instruction Cadre for the first eight weeks of the year.
Run by Major George Seccombe, the course developed leadership skills and helped the pupils to learn how to teach instructions to younger cadets and practice giving commands and instructions.
It cumulated in each cadet teaching a 15-minute assessed lesson to others on the course on aspects of the CCF syllabus such as drill, weapons handling, field craft and map reading.
Well done to the following cadets who all passed the course and were promoted to the rank of Sergeant at the CCF parade on 6 December:
Army: Jamie Cicchirillo, Jacob Knightley, Jacob Suter and Giles Dorward

RAF: Michael Ochman-Bates, Alexander Sachkov, George Amos, Edward Taylor and Benjamin Richter.