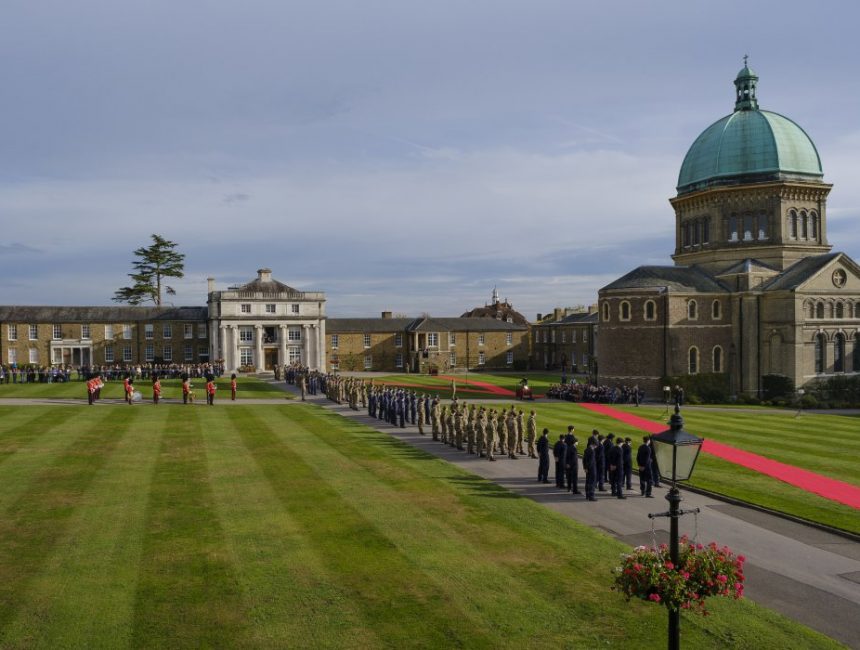 On Sunday 4 November, Haileybury hosted a military parade to commemorate the centenary of the Great War Armistice.
The parade was held in Quad and featured 175 cadets and reservists based in Hertfordshire, including Haileybury's Combined Cadet Force, Haileybury Turnford CCF, The John Warner School CCF, St Albans School CCF, Onslow St Audrey's School CCF, Bedfordshire & Hertfordshire Army Cadet Force, Hertfordshire & Buckinghamshire Wing, Air Training Corps, HMS Wildfire, 162 Medical Squadron, 254 Medical Regiment, RAMC and a marching band from the London Fanfare Trumpets.
Over 200 people were stood around Quad with a further 75 VIP guests including Deputy Lord-Lieutenants, Councillors, the High Sheriff, Commanding Officers, Head Teachers and other high-ranking military officers seated behind a saluting dais eagerly awaiting the arrival of the parade and principal guests.
Under the careful watch of WO1 (RSM) Eales the units marched into Quad at 11.00 am ready for the Parade Commander, Lt Col Igolen-Robinson, to take charge of the parade. For many of the cadets this was the largest parade they had ever taken part in. With chests bursting with pride they marched into Quad, led by the military band.
At around 11.15 am the principal guests left the Master's Lodge ready for Field Marshal Sir John Chapple GCB CBE DL (K45) to receive the General Salute. Her Majesty The Queen was represented by the Lord-Lieutenant of Hertfordshire, Mr Robert Voss CBE, and he was joined by the Vice Lord-Lieutenant, Mr Richard Beazley, and the Master of Haileybury, Mr Martin Collier.
Following an inspection of the parade by Field Marshal Sir John Chapple, the Lord-Lieutenant of Hertfordshire and the Master of Haileybury, the Field Marshal and Lord-Lieutenant addressed the parade, talking about the importance of the Armistice and the rich military heritage of Haileybury and Hertfordshire.
The parade marched off to rousing music from the band with each unit saluting Field Marshal Sir John Chapple on their way out of Quad, before filing into Chapel for a service, including the Act of Remembrance.
The parade, along with other acts of Remembrance around Hertfordshire, constituted an important part of the remembrance by Hertfordshire of not only the Armistice but also all those who gave their lives in the Great War.