Amériques music concert on Thursday 27 November: The legends of North America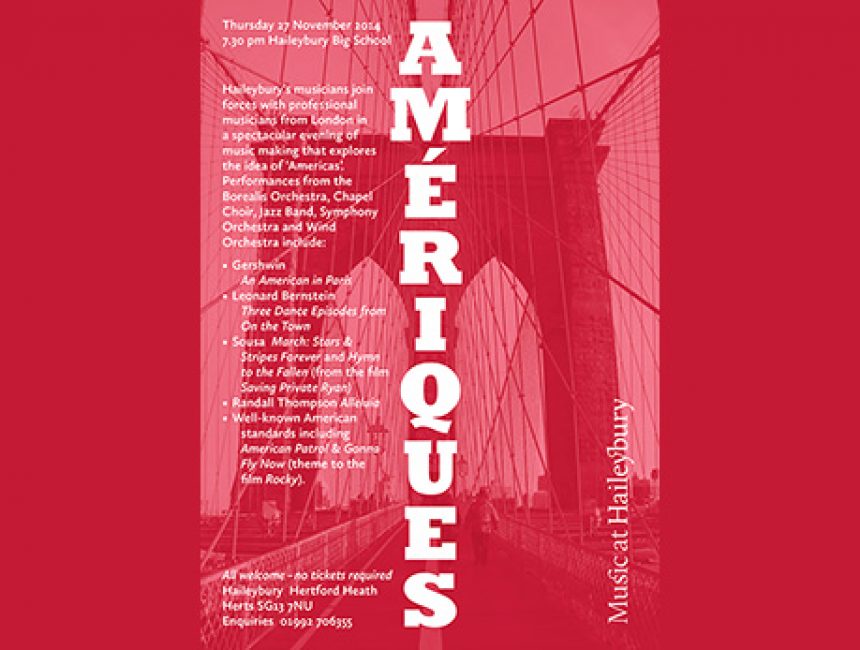 Tin-pan alley, cool jazz, big band and the wild-wild-west will be celebrated as Haileybury's pupils join forces with professional musicians from London to explore the legends of America at this star-spangled concert, on Thursday 27 November at 7.30pm.
With professional performances of Gershwin's enduring classic An American in Paris leading the way, Haileybury's pupil musicians will join a host of professional players for an evening of iconic music.
Alongside a host of legendary pieces, pupils will perform Leonard Bernstein's Three Dance Episodes from On the Town (Symphony Orchestra), Sousa's March, Stars and Stripes Forever and the Hymn to the Fallen from the film Saving Private Ryan (Wind Orchestra) and Randall Thompson's exquisite Alleluia. The pupils' Jazz Band will perform well-known American standards, including American Patrol and Gonna Fly Now (the theme to the film Rocky).
The evening will be an opportunity for Haileybury's musicians to showcase their musical talents and dedication.
Come along to immerse yourself in the music of the United States of America at what promises to be a spectacular, musical evening.
All are welcome. Entry to the concert is free.