African Sanctus concert to raise funds for Haileybury Youth Trust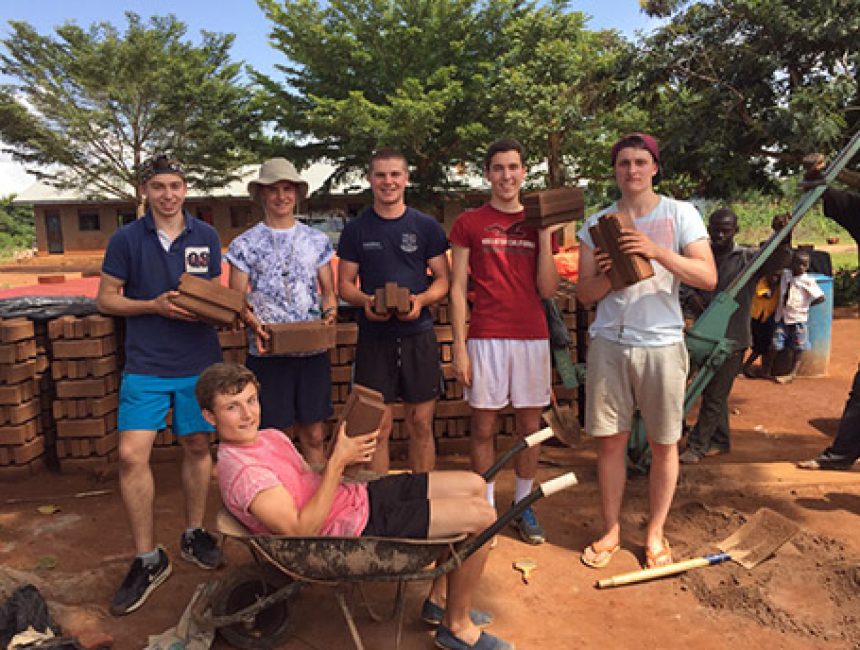 Tickets are on sale now for a special performance of David Fanshawe's renowed choral work African Sanctus on Friday 27 November.
The vibrant charity concert will include singers from our Chapel Choir and Choral Society, the Borealis Chamber Players and soloist Christina Petrou.
It is being held to celebrate the Haileybury Youth Trust's 125th anniversary. Founded in 1890 to support impoverished communities, today the Haileybury Youth Trust (HYT) works in Uganda to transform lives and livelihoods.
African Sanctus is an unorthodox setting of the Latin Mass harmonised with recordings of traditional African Music.
The Haileybury performance of it will combine a live choir, rock band and African drumming with David Fanshawe's original field recordings of African music, which the composer famously recorded on a journey through Africa between 1969 and 1973.
The concert will be held at 7.30pm in our historic Big School venue, with large wall-hangings created by pupils from local prep schools and in Uganda on display.
Tickets cost £10 and all proceeds will go to HYT's 'One Village at a Time' project, which trains young Ugandans to build low-cost low-carbon homes and schools and install water tanks.
The aim is to not only give the trainees valuable new skills, independence and employment, but to help them to transform their own villages and communities.
Jay Benham, who works at Haileybury as a Music Technician, sang in the second recording of African Sanctus in 1994, working alongside composer David Fanshawe.
Talking about being involved with the original recording, Jay said: "We recorded the entire work over two days in February 1994 in Poole, with Neville Creed conducting the Bournemouth Symphony Chorus and boys of St George's Chapel, Windsor. I was attending the Royal College of Music as a tenor at the time, and several of us were asked by David Fanshawe to join the recording. I sang the Second Tenor line.
"We worked closely with David Fanshawe – a passionate and charismatic individual who cared deeply about his work and this recording. He had been dissatisfied with the original recording in the 1970s and this was, according to him, an opportunity to get things right at last.
"For Haileybury's upcoming performance of African Sanctus, I shall be on the other side of the mixing desk, responsible for live playback and mixing the amazing original recordings that David made across Africa with the live band and chorus. It will be a rare treat."
More details and how to book tickets:
African Sanctus will be held at 7.30pm on Friday 27 November at Big School, Haileybury, Hertford, SG13 7NU.
Tickets cost £10 and are available in advance or on the door. Please click here to reserve your place or you can email boxoffice@haileybury.com
All proceeds raised will go to HYT, which began life in 1890 in the East End of London, where former British Prime Minister and Old Haileyburian Clement Attlee was once the Trust's manager. In 2006, after nearly a century of working among the poor of Stepney, the Trust relocated to Africa, where it has been working to transform lives in Uganda ever since.
Pictured: Haileybury pupils visited Uganda last summer to help HYT with their work.