A day in the life of a Pastry Chef at Haileybury
Pastry Chef Andy on almost 10 years of serving up the most delicious Haileybury meals.
It's an early start for Pastry Chef Andy who arrives on campus at 5 am to make sure the machinery in the kitchen is up and running. "We start by making 40 loaves," he says. "And every other day we do focaccia, three different types of focaccia."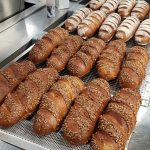 The smell of fresh bread wafting through campus each morning is a reminder that the food at Haileybury is made with heart. For almost 10 years now, Andy has played an important role in making sure the offering is delicious and varied.
"Today is syrup sponge, for example, so we make 10 of them in big trays and you get about 30 pieces out of each one," says Andy, who is preparing the sweet treats and breads for the Dining Hall."
"We're also doing jellies and cookies. We make about 450 cookies and then we try and make the jellies more interesting by decorating them with fruit."
As part of a dedicated team of 16 chefs, Andy makes sure the food at Haileybury keeps pupils fuelled and feeling good. "It's brilliant for the pupils because a lot of them live here so you want to make it as interesting as possible for them," he says. "You want them to have a lot of fibre and a lot of nutritious food."
"But you want them to have the good things too, the indulgent things, the cakes and biscuits – you want to try and keep the pupils interested. I've got five kids myself and at home, I always try and make it interesting. I do the same things at home that I'd do at work too."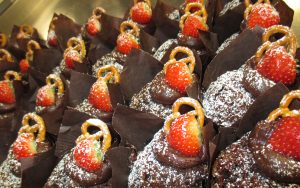 Andy began his Haileybury career in the main kitchen before becoming fascinated by the intricacies of pastry and puddings. He always has an upbeat approach to his work, and that comes through in his food.
"I always try and get on with everyone, have a smile on my face and be happy," Andy says. "It's important to enjoy it. I love what I do, I really, really love it. I love it when the pupils come in and they're happy to see what I've made. It puts a smile on my face and hopefully it puts a smile on theirs – that makes it all worthwhile."