Act of Remembrance honours our fallen Haileybury heroes
The whole school today lined the perimeter of Quad as part of a moving Act of Remembrance to honour the hundreds of Haileyburians who made the ultimate sacrifice.
An impressive parade of cadets marched across the site and the Last Post, performed by a talented quartet of musicians, echoed around the grounds.
Poppy wreaths were laid and a moment's silence was immaculately observed by pupils and staff who also heard from the Chaplain and the Master.
It follows yesterday's Remebrance Day service at school, attended by pupils and parents, which involved a short ceremony by the Cross of Sacrifice which was designed by Old Haileyburian Reginald Blomfield.
The school is proud to list 16 recipients of the Victoria Cross (VC) on the monument, with three others having been awarded the George Cross – Britain's highest civilian honour.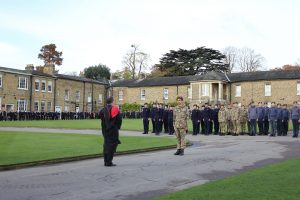 In total, 17 former pupils and one former member of staff have been awarded the VC and these are commemorated on the Victoria Cross panels in the Library.
Among independent schools whose pupils have been awarded the most VCs, Haileybury is in the top three with Eton and Harrow.