1st netball girls win county title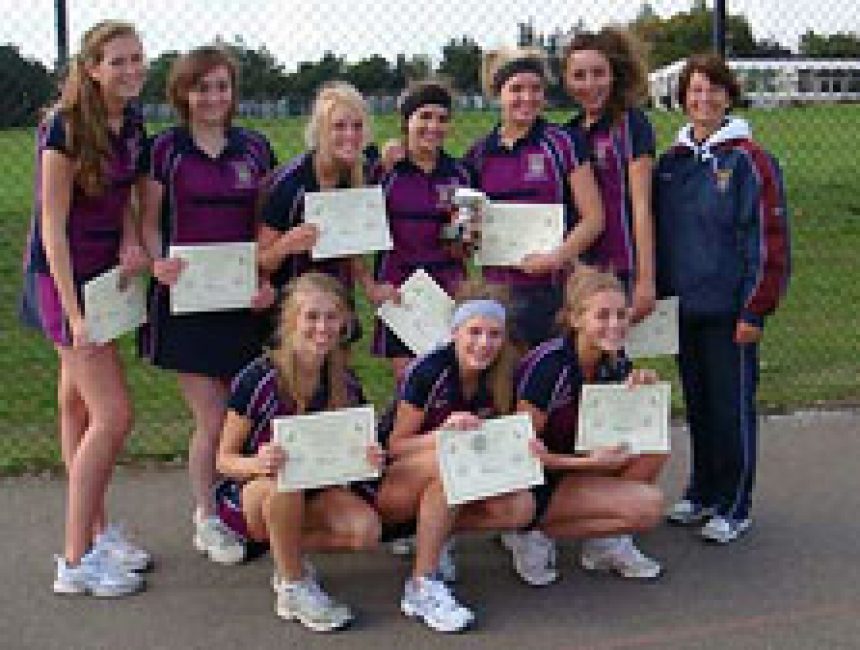 Haileybury's Under 19 Netball Squad last Saturday won the county championships at Stanborough School in Welwyn, ensuring they are to play in their first regional final in January. They beat Goffs School 11-5 in the final of the county stage.
This highly competitive tournament fields both state and public schools from across Hertfordshire. In sunny yet bracing conditions, Haileybury U19,s maturely captained by Louisa Sorensen and Olivia Chapman, faced four teams in our section.
The opening game versus Chauncy School was lost 11-12. Our only glimmer was that we had managed to purloin one point for our result, as we had scored over half the total winning score. This factor was to prove invaluable through the section matches.
Haileybury's second game against Loreto College, St.Alban's proved very easy and we won 13-0. This helped to settle our nerves and squad confidence returned.
Our next opposition was Broxbourne School – a school renowned for their consistency in winning top level tournaments with a team of club players who regularly train and compete as a unit throughout the whole year. We knew that they were a strong side with accurate shooters, quick interplay and an ability to convert opposition mistakes into a lead.
From the opening whistle, Haileybury played with determination and resilience. The defence of Freddie Waites and Charlotte Newton forced the Broxbourne attack into making risky passes, which were then intercepted. Charlotte also helped the Haileybury cause by picking off missed shots with well-timed rebounds. After the first half of seven minutes play, Haileybury were 3 goals up. From experience we knew this was too fine a margin against a strong side and had to keep focus. Clear thinking was required to play a simple second half game keeping possession of the ball and converting each shot. Sophie Simmonds, playing for the first time in such a top-level match, was mature and effective in her play. Her shots were accurate and rebounds were quickly claimed converted into a goal. She held her ground so well that Broxbourne were forced to two-man mark her. This did not thwart Haileybury as we simply changed tactics to use the unmarked player more effectively. Slick interplay with Alice Billings and Olivia Chapman moved the ball up court where Alice Coley and Olivia were then able to weave Louisa Sorensen closer to the post for a clear shot on goal. The final score of 11-3 meant that Haileybury gained five points from the victory and the score margin ensured that Broxbourne came out with nothing.
Still flying high from our previous result, there was no holding Haileybury back. Our final pool match against Bishop's Stortford High School was another showcase game. With confidence and assured play, the U19 squad defeated the High School 12-2.
There were two pools of teams in the quarterfinals. We were to play Bishop's Stortford College and Berkhamsted Collegiate who were runners-up and winners respectively in their own sections. We won the Bishop's Stortford match 9-4. With only a minute to our next game against Berkhamsted, we could only continue with the same tactics and play to our strengths. To Haileybury's credit this is what took place. Whereas before in previous Tournaments, we had succumbed to making mistakes during play, Haileybury were steady and responsive to coaching. An all-round team performance led to an 11-5 victory. We were through to the semi-finals as Pool winners! Haileybury had never reached this stage in this Tournament.
The Semi's saw Haileybury up against Chauncy School again. Clear heads and controlled positive moves to the ball meant Haileybury were able to keep possession and won 10-8. We could easily have rested in our laurels as our place at the Regionals was assured. However, taking on another local team, Goffs School was another highly rated challenge. Players from the Goffs team had played in the National Finals last year.
As the game started, Goffs looked every bit the experienced side and quickly took a lead. Haileybury did not panic; Charlotte Newton as Goal Defence restricted the playing ability of Goffs Goal Attack and this, combined with resilient defensive work alongside Freddie Waites, meant Goffs were unable to feed the ball into the circle with any accuracy. Haileybury started to play a game of quick flowing, possession ball around the court picking the moment to give a precise throw to Sophie or Louisa, who finished off this superb team display with a goal. The final whistle blew and Haileybury had won 11-5. We were County U19 Netball Champions!
Haileybury's name will now adorn the Trophy for the first time ever in the school's history. The squad will now be one of two teams (the other is Goffs School) that will represent Hertfordshire in the Regional Round of National Schools Netball Tournament to be played at Hassenbrook School, Essex in January.
The Haileybury County Champions U19 squad:
Louisa Sorensen, Olivia Chapman, Alice Coley, Natalie Peacock, Freddie Waites, Eliza Walter, Charlotte Newton, Alice Billings, Sophie Simmonds (Coach: Louise Rudd)
Our Under 16 team started slowly, showing their inexperience but certainly showed their true potential as the day progressed. In their first match against St George's Harpenden, they found themselves 4-0 down at half time but after some tactical changes and a positive half time team talk they managed to win the second half convincingly. Despite this improved form they narrowly lost the match and were then beaten by a Broxbourne team who were simply a class above.
In their last two section matches against Bishop Stortford College and Berkhamstead, the team started to pick up their pace and you could physically see their confidence grow. With convincing wins over BSC 14-4 and Berkhamstead 9-5, the girls came a very close third in their section, narrowly missing a place in the quarter finals.