Haileybury Prep and Primary Orchestral Day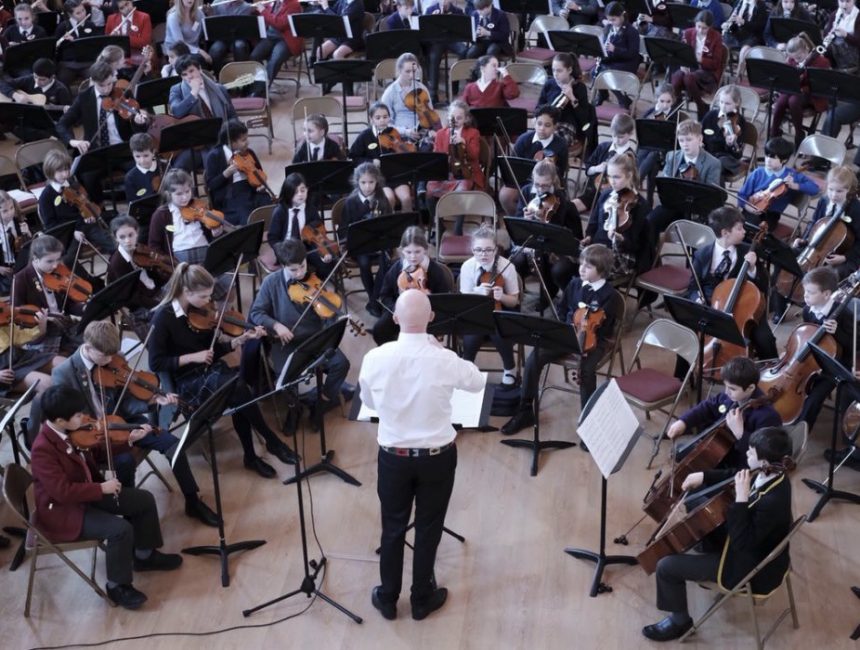 We welcomed more than 100 young musicians from Prep and Primary Schools to our second Orchestral Day on Friday 26 January.
Coached by staff from Haileybury's Music Department, headed up by Director of Music Mr Andrew O'Brien, the pupils spent the day rehearsing a variety of pieces and working up to a final performance as an orchestra. 
For some of the pupils it was the first time they had performed in an orchestra and the aim was to learn the basic skills and gain vital experience and confidence.
The morning sped by in a flurry of sectional rehearsals.
Following a tasty lunch in the Dining Hall, every pupil plus teachers gathered together in the Sports Hall for a Pilates session to focus on posture and muscle balance.
After an afternoon of further rehearsals, the young musicians came together in a buzzing Big School to perform in a concert for family and friends.
The programme included:
Harry Potter Medley

(Strings)

Star Wars

and A Festive Fanfare (Wind and Brass)

Louie, Louie

(Big Band)

Symphony No.9 Largo

and Finlandia (Full Orchestra).
Everyone was extremely impressed with the quality of the performance and just how much had been achieved in such a short space of time.
The day finished with news about the Orchestral Day being read out on the Simon Mayo 'All Request Friday' BBC Radio 2 Show – a fitting end to what was an inspiring musical day.