At Haileybury, service and giving to others are key parts of the School ethos. In the Upper Sixth, becoming a School Prefect is fundamental to this ideology.
"It is an honour to be elected as a Head of School or a School Prefect, knowing that your teachers and peers have the confidence in you to perform such an important role."

Quote from current prefect.
We actively encourage pupils to accept responsible leadership roles within the School community and there is a variety of opportunities for boys and girls who seek this distinction.
These include: Heads and Deputy Heads of School; Heads of House; Lower School Prefects; Activities Prefects; International Prefects; Peer Support Prefects; Performing Arts Prefects; Sports Prefects and a Prefect responsible for External Relations.
Duties of prefects
Typically, our prefects are crucial in setting the tone for the School, influencing attitudes and providing a link between pupils and adults across the campus.
They play a key role in pupil wellbeing and are central to our commitment to supportive pastoral care.
Appointment of prefects
The Master appoints the Heads of School and the Deputy Heads of School, one boy and one girl in each category, who are supported by the School Prefects. These include all the Heads of House, who are nominated by their Housemasters and Housemistresses.
House Prefects are also appointed by their Housemasters and Housemistresses. House Prefects have responsibilities within the House and around the school during House Duty Weeks.
Below is a complete list of prefects for the current academic year:
Heads of School:
Imogen Brace (As)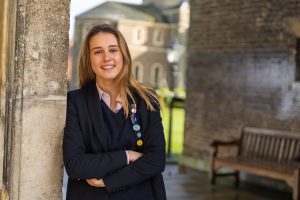 Jake Ratcliffe (Th)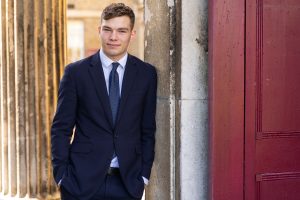 Deputy Heads of School:
Angelika Lattanzio (M)
Emanuele Canessa (Ki)
Heads of House:
Alban's (Alb) Francesca Gash
Allenby (Aby) Megan Hunter
Bartle Frere (BFr) Lewis Hall
Batten (B) Alexander Bacci
Colvin (C) Defne Arpacioglu
Edmonstone (E) Max Hodges
Hailey (H) Kei Yin Yong
Kipling (K) Phoenix Healy
Lawrence (L) Francesco  Barbini
Melvill (M) Mia Shambrook
Thomason (Th) Tristan Scott
Trevelyan (Tr) Thomas Walsh
Academic Prefects:
Ellie Owen (H)
Arianna Mortini (C)
Activities & Events Prefects:
Joe Newman (Tr)
Robbie Seaman (Tr)
Millie Brand (M)
Admissions & Marketing Prefects:
Lucy Hopkins (Aby)
Kate Knightly (H)
Arts Prefects:
Ogechukwu Ujam (K)
Tabea Kiessling (M)
Charities Prefects:
Lucy Simister (Alb)
Maximilian Glasmacher (B)
Environment Prefects:
Valentina Mota (Aby)
Sebastiano Ruberti Torrado (BFr)
International Prefects:
Marie Assimakopoulos-Galka (Alb)
Mariam Dunseath (Alb)
Lower School Prefects
Mackenzie Bates (H)
Lily Zneimer (H)
Henry Tripp (K)
Rachel Lam (M)
Jack Poelvoorde (Tr)
Oscar Lock (BFr)
Peer Support Prefects:
Abhiraj Paliwal (E)
Lizzie Hughes (H)
Jack Fisher (E)
Sport Prefects:
Robyn Hodges (C)
Devon Pearce (M)
Charlie Cook (B)